U.S. Senate approves renaming of Slatersville Post Office after fallen soldier
Spc. Matthew Turcotte of North Smithfield, was serving with the 2nd Infantry Brigade Combat Team of the 4th Infantry Division when he was killed in August of 2017 during a live-ammunition training exercise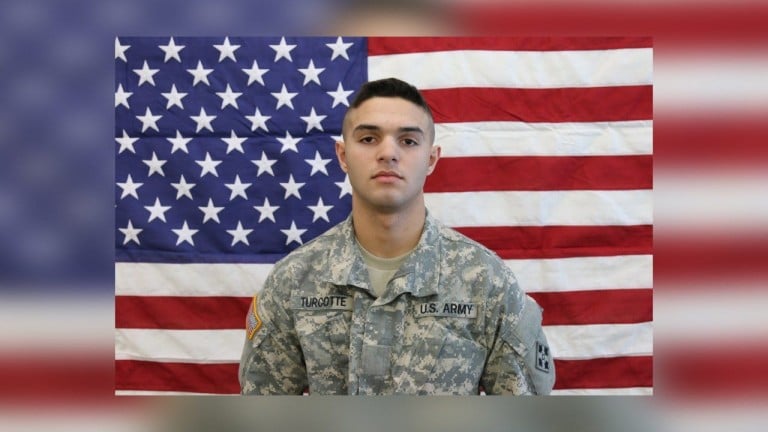 NORTH SMITHFIELD, RI (WLNE) – The United States Senate has approved a bill that will rename the Slatersville Post Office after a fallen soldier who was a North Smithfield native.
Spc. Matthew R. Turcotte, 20, died at Fort Carson in Colorado during a live-ammunition training accident back in August of 2017.
The Slaterville post office, located at 42 Main St, will be renamed as the "Specialist Matthew R. Turcotte Post Office."
Turcotte was a lifelong resident of North Smithfield. He enlisted in the Army while attending North Smithfield High School, where he was co-captain of the football team.
North Smithfield High School retired Turcotte's jersey back in November 2018.
"Matthew was a dedicated soldier, promising young man, and proud son of Rhode Island," Sen. Jack Reed said in a statement.  "He died in the line of duty and naming this post office after him is a small token of our enduring gratitude for his faithful service to our nation."
After graduating from NSHS in 2015, he reported for basic training at Fort Benning in Georgia and began his military career.
"Spc. Turcotte was a patriot and a proud son of North Smithfield who we tragically lost long before his time," said Sen. Sheldon Whitehouse.
During his time in the military, he deployed overseas once, to Kosovo.  Spc. Turcotte earned numerous awards and medals for his service, including: the Army Achievement Medal, National Defense Service Medal, Armed Forces Expeditionary Medal, Global War on Terrorism Service Medal, Army Service Ribbon, Overseas Ribbon, and NATO Medal.
Turcotte is buried at Inman Family Cemetery in Burrillville.  He is survived by his widow, Megan, his parents, Raymond and Liza, his sisters, Kayla and Paige, and an extended family of loved ones.