Unemployment center closing in Pawtucket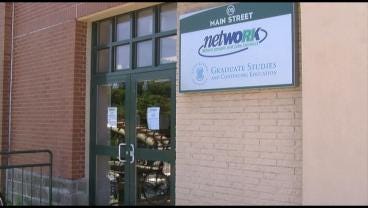 The unemployed in Rhode Island have one less place to turn to for help finding a job. The Department of Labor and Training is closing one of its unemployment centers in Pawtucket.
The NetworkRI Center in Pawtucket has become Phyliss Hick's second home and she hopes this computer will become her life line back into the working world. "I've been out of work for almost three years. I was a vice president for a bank, I ran a call center for a mortgage company, " says Hicks.

It's one of five one stop locations across the state to help people like Hicks get back to work with everything from career counseling and help with resumes, but come October the doors will close for good.
Forcing hicks to find a job on her own, she doesn't have a car to get to another center. "The average person from Pawtucket and Central Falls they do not have the money for the gas they have to get on the bus, " explains Hicks.
Charles Fogarty…the director of the Department of Labor and Training says money is tight everywhere and the state has no choice. "Unfortunately this is a result of a reduction in federal dollars, " says Charles Fogarty.
For job seekers like Phyliss Hicks the help she got here is priceless. With or without it though, she knows she has to keep moving ahead. "You cant give up you got keep going there's no other choice, " adds Hicks.
The Department of Labor and Training also announced its laying off about 70 workers which is 15 percent of its staff. That will happen sometime in July.