Unemployment Lowest Since 2009, A Lot Still Needs To Be Done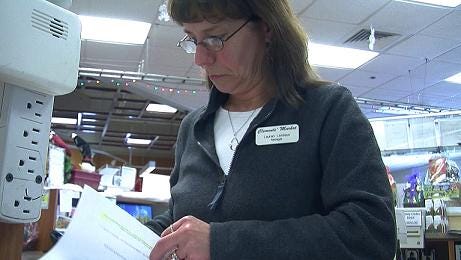 The national unemployment rate has dropped to its lowest point in more than two and a half years. The Department of Labor says the rate fell to 8.6 percent, the lowest since March of 2009. A hundred thousand jobs were created last month, but Rhode Island's U.S. Senators say a lot still needs to be done.
Senators Reed and Whitehouse toured a family owned business in Portsmouth which they say will be impacted if unemployment benefits and payroll tax cuts aren't extended before the holidays.
A decrease in unemployment is a good thing, but there's another side to that number. One reason the rate dropped is because some 300 thousand people just gave up their hunt for work, so they're not counted in that statistic. For those who are unemployed now and collecting benefits, they risk losing them, if congress doesn't vote for an extension before December 31st.
Inside Clement's Marketplace in Portsmouth, Rhode Island a train circles a track hung from the ceiling,and holiday music fills the air. A decorative tradition to put shoppers in the holiday spirit.
That spirit dwindles in workers like Lauren Lemieux who's fiance has been out of work for a year.
"We're just going to try to get through, I feel very fortunate to have a job, a lot of people do not have job, they haven't had a job, one being my fiance," said Lemieux.
Senators Jack Reed and Sheldon Whitehouse walked the isles of Clements' listening to general manger Tracy Anthony's concerns. Reed and Whitehouse are both pushing for legislation that would not only extend payroll tax cuts, but increase them. A proposal that would help employers like Anthony.
Anthony says, "for us to be able to increase our hours at any time of year but especially this time of year means a lot."
The senators are also pushing for an extension of unemployment benefits, a pitch that was recently rejected.
Senator Reed says, "it is frustrating because we had a vote last evening and it was blocked again."
If unemployment benefits are not extended by the end of this month, starting January 1st of next year, 13,000 Rhode Island claims will run out in the first six months. So far, the extension has been a fight between political parties. Republicans want to cut spending to pay for the extensions. Democrats say tax the wealthiest among us.
Senator Whitehouse said, "you know I think they know they can't go home for Christmas having left regular working Americans in the lurch."