Union President Speaks Out at School Board Meeting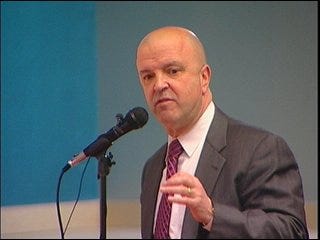 Providence Teachers Union President Steve Smith attended tonight's school board meeting with harsh words about the proposed terminations.
All 2000 public-school teachers in Providence received termination notices last week as Mayor Taveras's administration tries to make up a $40 million deficit in the school budget. In a statement, Taveras says that most of the teachers will have those termination notices rescinded, but that's not making Smith and the teachers any happier.
Terminations would mean that even if a majority of those teachers are re-hired, the city can ignore seniority in the re-hiring process. Under layoff rules, the city must re-hire teachers based on their seniority, and so the teachers who make the most are generally the first re-hired.
Smith says the union is organizing a rally Wednesday and will continue to fight the city's action.
ABC6 Reporter Erin Logan has the details.