Universal Pre-K in Rhode Island: A closer look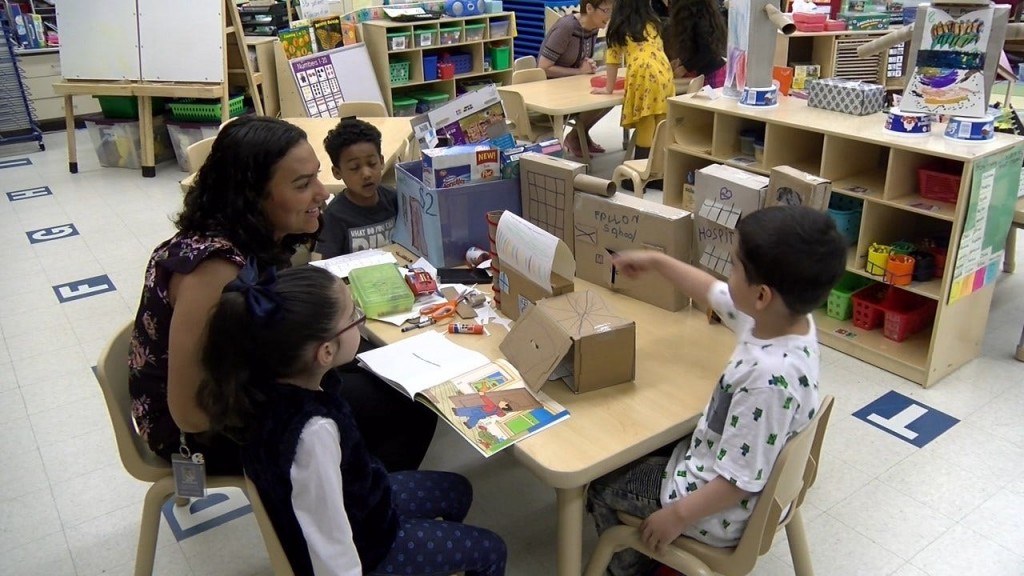 PAWTUCKET, R.I. (WLNE) — Inside the walls of Fallon Elementary in Pawtucket, learning starts early.
"They're exposed to science and sharing and communicating with each other and language and reading, math-all of these opportunities that are offered in this classroom," said Pawtucket's Early Childhood Coordinator Donna Sawyer.
But right now, these opportunities are limited to a select few students, chosen by lottery. Statewide, Rhode Island funds Pre-K for just 1,050 three-, four- and five-year-olds, but Gov. Gina Raimondo wants to change that.
"I pledge to you to be the governor that brings about universal Pre-K to the state of Rhode Island," Raimondo said in her State of the State address in January.
In the plan, unveiled as part of her budget proposal earlier this year, the Governor wants to add 540 new Pre-K seats this year, and 5,300 seats in 2020. The plan would mandate a cap of 20 students per classroom, led by a certified teacher, and a consistent curriculum from town to town.
"When they leave there's a huge difference, and you say to yourself, we've made a difference with these children," said Sawyer.
Sawyer says the benefits of Pre-K are without question. Not only do these students do better in Kindergarten and beyond, including on standardized tests, that success tends to carry through into adulthood.
"As adults, we see less crime and people in jail," said Sawyer.
In Pawtucket's Pre-K classrooms, the lesson plan is play-based, from learning through music, to small group centers, and getting exercise outdoors.
Jaclyn Quaine says for her daughter Olivia, Pre-K has been a life-changing experience after being waitlisted a year ago.
"It's been amazing. She's just grown as a person. Her motor skills and starting to read and recognizing letters and things like that, but also friends-her social and emotional skills have really developed," said Quaine.
Sawyer says what pains her is that for every success story, there are several more families who will never have this chance.
"Parents will beg me, please find a spot for my child, and my hands are tied," said Sawyer. "If your child is number 94 on my waiting list, there is no way that child is going to get in."
With universal Pre-K, those waitlists would go away, but for some legislators the $10 million price tag is worrisome. Speaker Mattiello has expressed caution, saying while he applauds the Governor's focus on education, he worries adding new programs like this may be tough this year.
Others are concerned the plan doesn't give enough control to cities and towns.
"You need to empower in this legislation the flexibility, the dynamic quality of different communities," said Peder Schaefer of the Rhode Island League of Cities and Towns.
But for supporters, it's about making sure every young mind gets an equal shot at success.
"To be able to say yes I do have a spot for your child, would be amazing. It's just-it would be-words can't describe and money cannot buy this kind of program. The benefits outweigh any price tag," said Sawyer.
Legislators will take up the universal Pre-K proposal as part of budget negotiations in the coming weeks. If it's approved, the first wave of new classrooms would be added this fall.
© WLNE-TV / ABC6 2019