Up close look at Tall Ships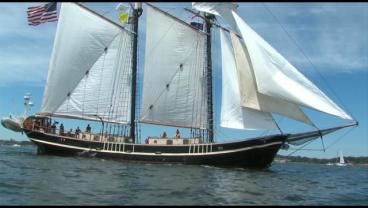 Andrea Medeiros
Monday was the final day of the Newport Tall Ships Festival. The Tall Ships fleet left the best for last, holding a "Parade of Sail" around Narragansett Bay.
We got up close to historic tall ships like the Unicorn, the only one with an all women crew, and the Bounty, famous for its appearance in all three "Pirates of the Caribbean" movies.
"Plus something famous about it," said Ocean State Tall Ships Organizer John Houle, "It was built for the Mutiny on the Bounty and Marlin Brando insisted that it not be burned. They were planning to burn it at the end and he said if they burned down this ship, I'm quitting."
Without Brando, we wouldn't be seeing the Bounty in the "Parade of Sail," making a loop in Narragansett Bay along with 15 other Tall Ships. Its cannons were a hit with the kids.
"The first time it was unexpected," said nine year old William Kohn."
Everyone had their favorite part of the Tall Ships parade, but perhaps for the Raab family it means a little bit more.
They looked on as their daughter performed acrobatics on "The Providence."
"She just saw the Tall Ship "Providence" and fell in love with it. She wanted to be the first person ever to hang from the yard arm and do an aerial performance on a tall ship," said mom Donna Raab.
Another cool thing is once the Tall Ships leave Narragansett Bay, a lot of them are going to the same destination, Halifax, so they race on the way there.