Upcoming guided hikes will feature edible plant life along the way
The Woonasquatucket River Watershed Council is offering two hikes in June showcasing edible plant life, with sampling allowed on one of those hikes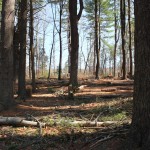 By: Tim Studebaker
Facebook: @TStudebakerABC6
Twitter: @TStudebakerABC6
Email: tstudebaker@abc6.com
PROVIDENCE, R.I. (WLNE) – If you're looking for new ways to enjoy the great outdoors, the Woonasquatucket River Watershed Council has lots of programs for you to check out, including hiking trips.  Two of their upcoming trips might really pique your interest: guided hikes featuring edible plant life.
Erik Talley is a Recreation Director with the Woonasquatucket River Watershed Council.  Talley says, "We have been bringing in experts off and on to make the trips more interesting, and the one we have for these next two trips is Russ Cohen, who's a local author, who's written books on wild edible plants."
The first hike will be on June 2nd at Merino Park in Providence.  On that one, even though they'll be pointing out edible plant life, they strongly suggest you don't actually eat it because of the industrial and polluted history of the area.
Talley says, "One of the big jobs the Woonasquatucket River Watershed Council does is to mediate a lot of the pollution and dumping that's happened to the river in the last century."
And although it's not safe to eat the plants in that part of the city yet, they're hoping the hike will help people understand the importance of the watershed council's cleanup efforts.
Talley says, "It's a long term goal.  Hopefully this will raise peoples' interests in participating in that work."
The second hike will be June 16th at the Mowry Conservation Area in Smithfield.  On that hike, snacking and sampling will be allowed.
Talley says, "Bringing in an expert to tell us what's safe to eat, what's not safe, what tastes good, what's maybe not going to taste good is something we're really looking forward to."
To learn more about the upcoming hikes, visit their website: https://wrwc.org/wp/events/wild-edibles-walk-6-2-21/
© WLNE-TV / ABC6 2021