UPDATE: 7 hospitalized following circus accident at the Dunk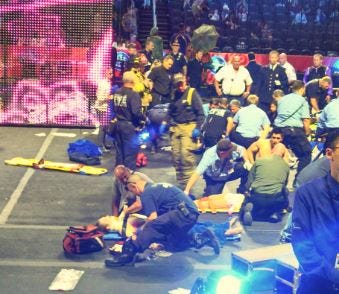 By Sean Cahill
An accident during a circus show at the Dunkin Donuts Center has left eleven performers seriously injured. Seven people remain at Rhode Island Hospital tonight. One in critical condition.
The accident happened just before noon during a Ringling Brothers and Barnum and Bailey Circus Legends Show.
Eight performers all women were hanging mid–air by their hair when the meal–frame holding them fell. Others on the ground were also hurt.
"They fell from anywhere between 25–35 feet and so are as a result of those injuries they're being treated and at this point it doesn't appear to be life–threatening," said Public Safety Commissioner Stephen Pare.
Some of the injuries include broken bones.
No one in the audience was hurt, but the thousands inside the Dunk watched on as first responders treated and transported the victims. Per arena policy the lights were dimmed following the accident.
"This is a family show, family entertainment. I believe you know that there were a lot of families that were disturbed at what they saw," said Dunkin Donut Center GM Larry Lepore.
Family Service of Rhode Island is prepared to help families explain the events to their children.
You can call their hotline at 401–331–1350.
Providence Public Safety also has a disaster hotline you can call at 1–800–985–5990 or text TalkWithUs to 66746.
The Rhode Island State Fire Marshall and the Occupational Safety and Health Administration are investigating.
Following the accident the Sunday shows were canceled. The 10:30 am show for Monday is also ccanceled Ticket holders can get refunds at the box office.
(C) WLNE–TV 2014