UPDATE: Construction workers suspended after drinking on job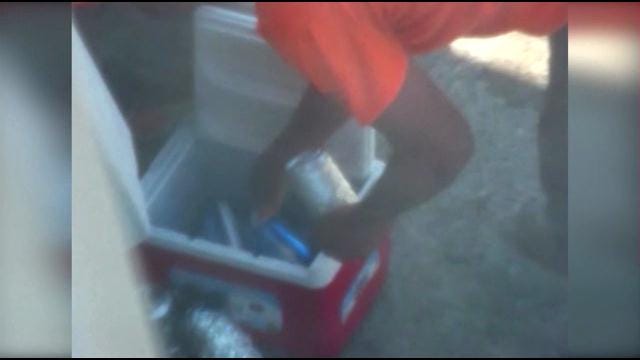 By: Alexandra Cowley
The construction workers caught on camera drinking beer on the job in Fall River, have been suspended. The mayor held a meeting with the contractor and construction company Today. After the meeting, Mayor William Flanagan has decided to give the company a second chance.
When we first showed Mayor Flanagan the home video, shot by a neighbor, of construction workers drinking on the job, he was shocked.
"To see the workers of that agency drinking on the job, I was disappointed," said Mayor Flanagan.
But now, he says it's not as bad as it looks.
"In this particular case, the work was completed at the time they were on their break, drinking beer, and eating sandwiches," he said.
The city hired J&J Contractors to lay concrete at James Madison Morton Middle School. The employees caught on camera drinking, work for a sub–contractor, DaPonte Construction. The owner, Kevin DaPonte, says his workers were already done with the job and were only on site to keep people off the wet concrete.
Still, the mayor says what they did was unacceptable.
"It sends the wrong message to see a construction worker on the job drinking no matter if it's during his job, on his lunch break, or after its been completed," said Mayor Flanagan.
As soon as the mayor saw the video, an inspector was sent to the school construction site, to check on the quality of the work done.
"Everything was at or above standards,"said Ken Pacheco, Director of Fall River Public Works.
Because the City of Fall River has never had a problem with J&J or DaPonte in the past, the mayor says he's willing to let this mistake be an example.
DaPonte Construction declined an on–camera interview, but sent us this statement:
"Regarding the incident that occurred last week on the Morton Middle School project, DaPonte Construction accepts full responsibility. DaPonte had already completed our portion of work on the project and the subject employees were waiting for the concrete to dry enough to allow pedestrian traffic. They worked through their lunch hour that day and after completion of the entire project, with poor judgment, the incident occurred. The integrity of work performed was not affected. We do not condone or tolerate such behavior and disciplinary action has been taken, subject employees were suspended. DaPonte Construction has completed its entire scope of work on this project. We apologize to not only J&J Contractors and Mayor Flanagan, but also to the taxpayers of the City of Fall River. We would like to thank everyone for their support, and we hope moving forward this will only help make our company stronger. "
DaPonte construction has finished work at the middle school. The workers involved have been suspended for an unknown period of time, but will not lose their jobs.
Work at the Morton Middle School is expected to be complete by the start of the school year.
(C) WLNE-TV 2013