UPDATE: Missing Boater IDd, Search Called Off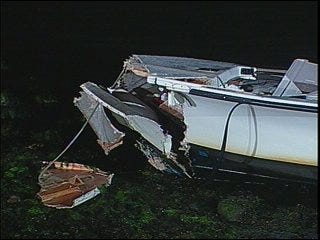 UPDATE: According to the Massachusetts Environmental Police, the search for missing boater Stephen McMann has been called off and will resume Tuesday.
*****
The U.S. Coast Guard has suspended its search for a missing boater on the Taunton River after a collision with another craft Sunday. He has been identified as 48-year-old Stephen McMann of Berkley.
Read below for more on this story.
-From the U.S. Coast Guard
FALL RIVER, Mass. – U.S. Coast Guard crews suspended the search for a missing mariner near the Charles S. Braga Bridge, Aug. 9 2010.
Coast Guard crews have extensively searched an area approximately five-square miles along the river near the mariners last known location.
Rescue crewmembers from Station Castle Hill used 25 and 45-foot response boats to saturate the area. An HH-60 Jayhawk rescue helicopter crew, from Air Station Cape Cod, conducted sorties including a first light search. All crews had no results in the search.
Rescue crews are standing by pending further developments.
Please call Sector Southeastern New England watchstanders at (508) 457-3211 with any information regarding the missing mariner.
*****
Crews have been scouring the waters at Bicentennial Park in Fall River after a reported boat collision.
Choppers were in the air with spotlights searching the waters along with Coast Guard and rescue crews patrols the water itself.
ABC6 will stay on top of this story and bring you any new details as they become available…