Update on Coastal Storm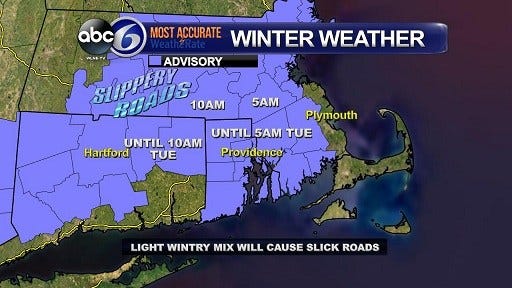 Southern New England is bracing for a powerful coastal storm that will bring snow, wind and heavy rain to the region into Tuesday. The accumulating snow will be seen north and west of Worcester, especially into Northern New England, where over a foot of snow will fall. Let's start with the storm's timing here in Southern New England. With sub-freezing temperatures for much of the region, a light wintry mix of snow and freezing drizzle/rain could cause some slick roads into early Tuesday morning, especially from Providence to the north and west. A Winter Weather Advisory is in effect until 5am Tuesday morning, by which time temperatures should be above freezing for most of the region. However, areas north and west of Rhode Island could remain below freezing until 10am.
Tuesday will feature a windswept rain with the heaviest rain expected by late morning into the afternoon. Most areas will pick up one to three inches of rain by Tuesday evening. A Flood Watch has been issued for nearly all of SNE from Tuesday morning thru Tuesday evening, with poor drainage flooding in urban areas the primary threat. Coastal flooding is also likely on the eastern MA coast, including the Cape, during the Tuesday late-morning early afternoon high tide cycle. Minor coastal flooding and minor beach erosion are expected.
Tuesday will also feature strong ENE winds all day, with winds of 15-30mph, gusting from 40 to 60mph. The worst of the winds are expected in coastal areas, with a High Wind Watch for the E MA coast, including the Cape, and a Wind Advisory for the entire RI coast and parts of the MA south coast. Interior portions of SNE can expect NE winds gusting up to 40 mph during the day into early Tuesday evening. The storm will wind down late Tuesday evening, with lingering showers expected into Wednesday and Thursday. We will not have to worry about slick roads on Tuesday night, as low temperatures are expected to remain well above freezing into Wednesday morning.
-Kevin Coskren, ABC6 StormTracker Weather Team