URI Developing New "Laser Scarecrow" Technology to Save Corn Crops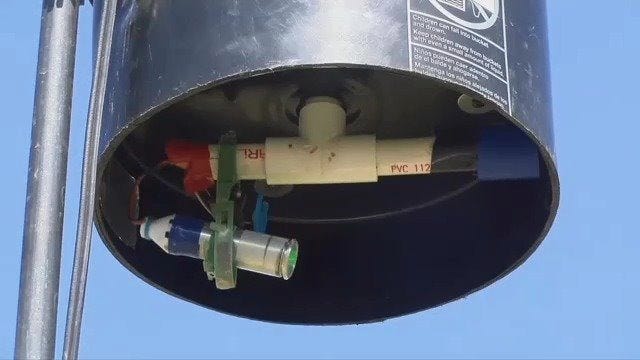 By: Tim Studebaker
Facebook: @TStudebakerABC6
Twitter: @TStudebakerABC6
Email: tstudebaker@abc6.com
CRANSTON, R.I. (WLNE) – For Vincent Confreda, the owner of Confreda Greenhouses and Farms in western Cranston, corn is big business.
Confreda says, "Sweet corn is probably about 65% to 70% of my business. People don't want to hear you don't have it. They don't want to hear that the birds ate it or the weather got a hold of it."
Like every farmer, Confreda battles a big problem: birds that eat his corn.
Confreda says, "They pick at the top parts of the corn. They just peel it open and they make the corn unsaleable."
He says in the past, he's lost up to 80% of some of his corn crops. Many farmers have tried to remedy the problem, using some pretty noisy methods.
URI Plant Sciences Associate Professor Rebecca Brown says some of the past methods farmers have used include, "…propane cannons, pyrotechnics, and shooting birds to control the damage."
That's where researchers like Brown come in. They're developing new technology to ward off those birds using laser light instead of noise.
Brown says, "They can see the green beam, even when we can't."
They're calling it a "laser scarecrow." The moving beam of light scares the birds, and the hope is that will save corn crops.
Brown says airports have been using the technology for about 20 years, but it's new for farmers.
Brown says, "The early lasers had to be plugged into the electrical grid. They could not be operated off of batteries."
Now, farmers across New England are testing the scarecrows, including Confreda. He has two on his farm and says so far so good.
Confreda says, "We saw a great improvement. I would say last year was probably 95% effective."
© WLNE-TV / ABC6 2019