URI Falls In Overtime Heartbreaker At UMass Wednesday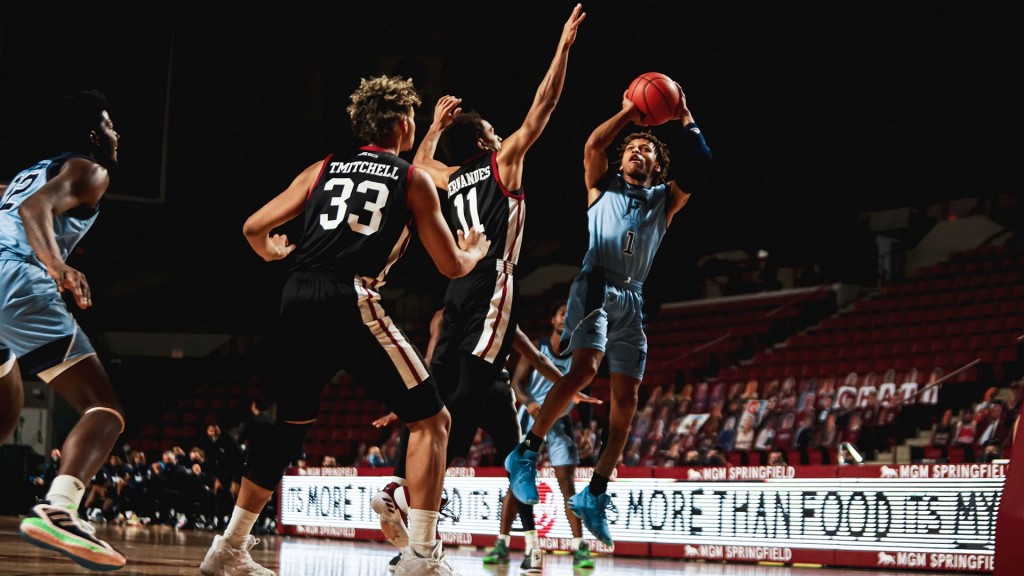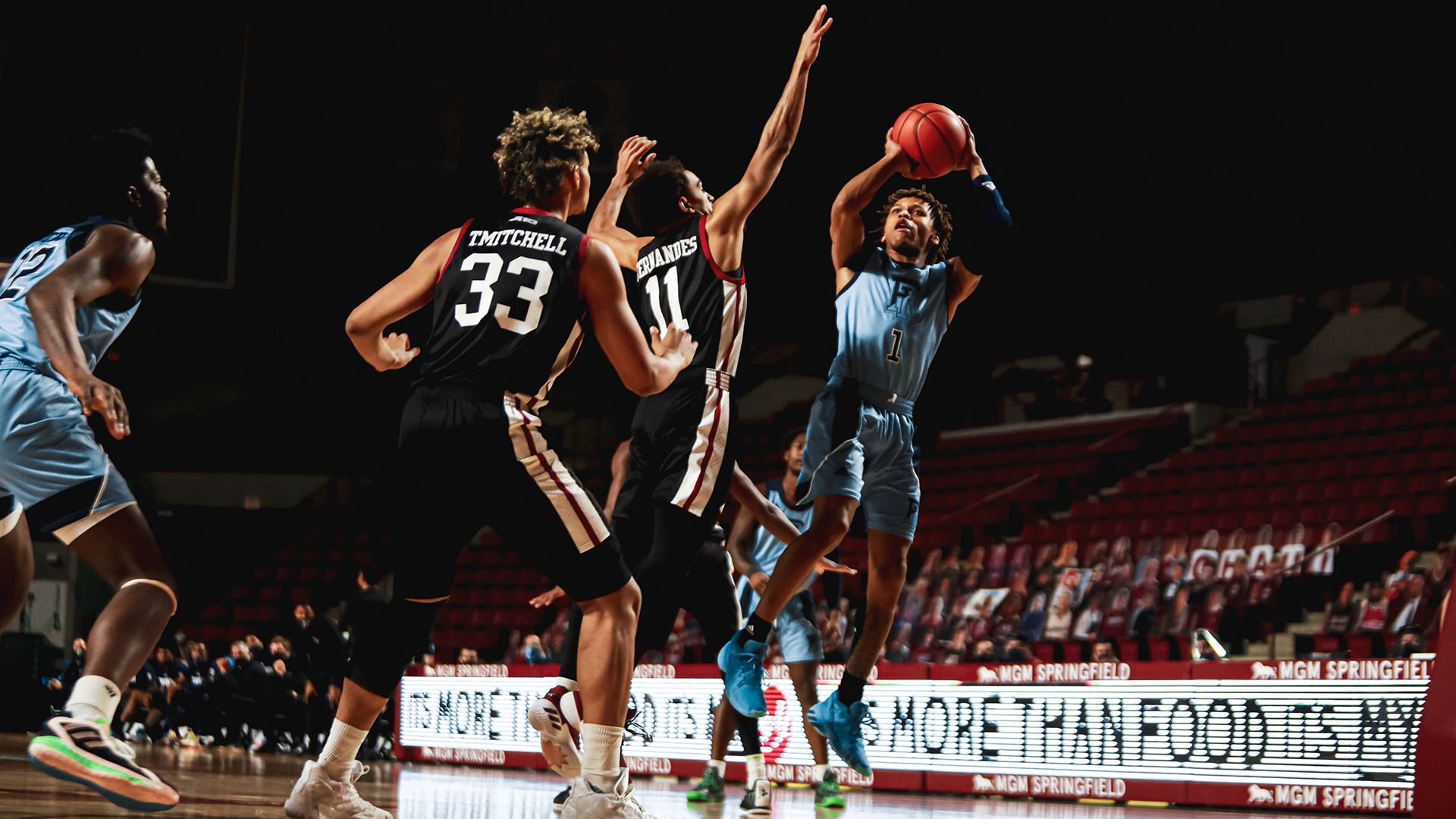 (Photo courtesy: Drew Adames)
University of Rhode Island Press Release
Rhode Island Starters
Russell, Sheppard, Walker, Martin, Makhel Mitchell
Massachusetts Starters
Fernandes, Pierre, DeGray III, Walker, Mitchell
How it Happened
Rhode Island battled back from a 15-point second-half deficit to force overtime, but a layup at the buzzer of overtime fell off the rim as the Rams fell at Massachusetts, 80-78, Wednesday night.
A choppy first half saw Rhode Island (6-7, 3-3 Atlantic 10) fall behind by as many nine points. UMass (4-3, 3-1 A-10) opened the game hitting 14-of-26 (53.9 percent), scoring 24 points in the paint, despite Tre Mitchell being limited to seven points in 12 minutes due to foul trouble.
After Carl Pierre hit a layup to put the Minutemen up 34-25. Rhode Island put together a 6-0 spurt to get back within three points as Fatts Russell banked a 3-pointer, Jalen Carey hit a pair of free throws and Malik Martin added one from the line. However, the Rams missed their final six field goals of the half, and UMass went into the break with a 37-31 lead.
Rhody hit its first three shots of the second half, including back-to-back 3-pointers from Allen Betrand and Antwan Walker, to tie the score, 39-39. From there, turnovers again began to plague Rhode Island. Six turnovers over a five-minute span helped UMass go on a 12-2 run to build a 51-41 lead.
The lead got to as many as 15 points multiple times, including 62-47 with 9:35 to go. Rhode Island went on an 11-0 run that included back-to-back dunks by Makhel Mitchell to get the Rams back within four at 62-58. A DeGray III dunk ended the run, but Russell followed with a pull-up jumper and two free throws to make it a one-possession game, 64-62 with 4:05 to go.
Pierre dropped a baseline floater for UMass, but Makhel Mitchell scored off a feed from Jeremy Sheppard, as the teams traded baskets. Tre Mitchell hit two free throws to put UMass up, 68-64. Noah Fernendes hit a clean drive down the middle to push the lead to six points, but D.J. Johnson hit a 3-pointer for Rhode Island to trim the deficit to 70-67.
Betrand scored on an offensive rebound off a missed free throw, pulling URI to within one point with 1:10 to go. Degray III hit a layup to make it a three-point game, but Betrand tied the score with 14.5 seconds to go. He faked a shot, let the defender go past him, then hit a wide open look to make the score 72-72. The Minutemen got two shots in the final eight seconds, but both missed, sending the game to overtime.
The teams combined to miss the first nine field goals and one free throw before Makhel Mitchell scored on a tip-in with 2:05 to go. DeGray III hit a corner 3-pointer to put UMass up, 75-74. A Russell free throw tied the score again, and Tre Mitchell responded with a layup.
Russell drove the lane and kicked out to Johnson for a corner 3-pointer to give Rhode Island a 78-77 lead with 42 seconds to go. Tre Mitchell drew a foul with 25 seconds left and made two free throws, as UMass moved back ahead, 79-78. Pierre made 1-of-2 at the line with six seconds left to make it a two-point game.
Russell drove the length of the court and found a streaking Walker for a layup at the buzzer. Unfortunately the shot bounced around the rim and out.
Inside the Box Score
Massachusetts had a big advantage in fast-break points, outscoring URI, 28-6.
The Minutemen shot 20-of-24 at the free throw line, while Rhode Island was 11-for-21.
Rhode Island again had a big advantage on the boards, outrebounding UMass 44-34. It is the fifth straight game in which the Rams have had a double-digit edge on the glass.
Sophomore Makhel Mitchell had a career-high 23 points to go with six rebounds. It was his fourth game scoring in double figures.
He also did a strong job on Massachusetts' big man Tre Mitchell, limiting him to 16 points on 5-of-12 shooting.
Senior Fatts Russell had 12 points, seven rebounds, five assists and two steals.
Junior Allen Betrand scored in double figures for the second straight game, netting 11 while adding four assists.
Redshirt junior D.J. Johnson gave Rhode Island a fourth player in double digits, scoring 11 off the bench. Johnson and Betrand each made three 3-point shots.
As a team, Rhode Island was 9-for-21 from deep, the third straight game making better than 40 percent.
Up Next
Rhode Island is back in the Ryan Center Saturday, Jan. 15 when it hosts George Mason. Tip time is 2:02 p.m. and the game will air on NBCSN.