URI Football Drops Home Opener To Harvard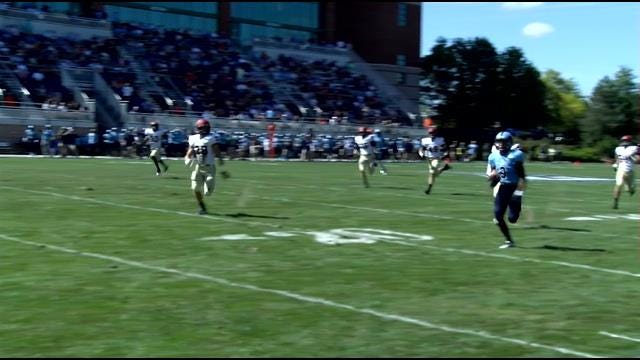 University of Rhode Island Press Release
How it Happened
Rhode Island (0-3, 0-1 CAA Football) trailed 14-0 after the first quarter, before QB Paul Mroz found Khayri Denny on a 62-yard strike to start the second quarter. Justin Rohrwasser converted the PAT kick, making it 14-7. Late in the quarter, Rohrwasser connected on the first field goal of the season for the Rams – a 33-yarder, making it 14-10. The Crimson added a late TD on a four-yard run and led 21-10 at the half.
Harvard controlled the scoreboard for much of the second half, tacking on 21 unanswered points. The Crimson scored twice in the fourth quarter – including a TD off a blocked punt.
Inside the Box Score
Harold Cooper rushed 22 times for 95 yards, including a long-run of 13. It was the highest rushing total by a Ram this season. The sophomore tailback added three catches out of the backfield for 10 yards.
Cooper also made five kickoff returns for 76 yards (15.2 yards/KR) – including a 24-yard return.
As a team, Rhody rushed 36 times for 135 yards. The Rams outrushed the Crimson, 135-103.
Paul Mroz was 17-for-35 for 175 yards and a touchdown. The 17 completions tied his season-high, set last week at Albany.
Charlie McKeeman hauled in four passes for 41 yards. Khayri Denny made two catches – including his 62-yard TD reception.
Linebacker Adam Parker made 12 tackles – including seven solo stops. Tim Wienclaw added five tackles, while Jose Duncan had three.
Sophomore DB Isaiah Hill registered his first collegiate interception, picking off Harvard QB Scott Hosch in the second quarter. His pick in Harvard territory helped set up Rhody's field goal.
Connor McHugh averaged 43.0 yards per punt on the afternoon – including a 61 yarder.
After a combined eight turnovers in URI's first two games, the Rams did not commit a turnover versus the Crimson.
Attendance at Meade Stadium was 4,843.
The anchor bearer for the Rams was defensive end Anthony St. Laurent.
Stat of the Day, pt. I
7-for-18 – Rhode Island was 7-for-18 in third-down conversions.
Stat of the Day, pt. II
310 – The Rams had 310 total yards of offense – a season-high for the Rams.
What's Next
Rhode Island heads to Orono next Saturday to take on Maine at Alfond Stadium. Kickoff time is set for 3:30 p.m. The game will be televised live on the American Sports Network. Local clearances to be announced this week.