URI Football Upsets #15 Delaware To Open 2018 Season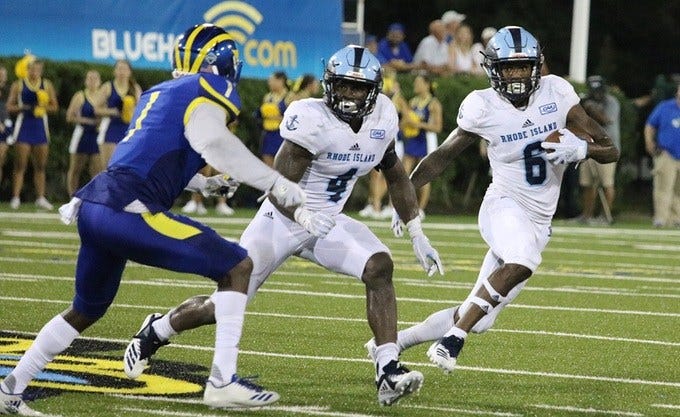 University of Rhode Island Press Release
(Photo Credit: Shane Donaldson)
How It Happened
Rhode Island opened the season with a win over No. 15/16 Delaware, beating the Blue Hens on the road, 21-19 Thursday night. It was the first win over a ranked opponent for the Rams since 2011, and their first victory in a season opener since 2009.
Rhode Island (1-0, 1-0 CAA Football) scored the first points of the night, capitalizing on a special teams miscue. A snap went over the punter's head and Justice Antrum scooped the ball at the 2-yard line and went in for the touchdown at 10:27 of the second quarter.
Delaware responded with a seven-play, 80-yard touchdown drive on its ensuing possession. Tight end Charles Scarff caught a 28-yard strike from Pat Kehoe as the Blue Hens tied the score at 7:05 of the second quarter.
Delaware (0-1, 0-1 CAA Football) took its first lead just before the half when Frank Raggo hit a 26-yard field 35 seconds before the break. The points were set up by a 47-yard pass from Kehoe to Kani Kane on which Kane broke several tackles to get the ball to the Rhody 26-yard line.
Rhody's defense came up with a turnover on the opening drive of the second half, as Tyler Wipper forced a fumble by Kane. Justin Hogan recovered the ball to give the Rams possession. Rhody drove into Delaware territory, converting on third down three times. JaJuan Lawson hit Matt Pires for 19 yards on third-and-6, then connected with Isaiah Coulter for 9 yards on third-and-5.
Finally, he hit Aaron Parker for 26 yards on third-and-9 to get into the red zone at the Delaware 5-yard line. On second-and-goal from the 1-yard line, Parker took the snap and snuck it in to put the Rams up 14-10 with 6:27 left in the third.
Raggo trimmed the deficit for Delaware to 14-13 with a 48-yard field goal with 3:35 left in the third. His second field of the night was the longest of his career. The points came after Delaware's drive was extended by a roughing the kicker penalty on a punt earlier in the drive.
On its next possession, Lawson extended multiple plays with his legs on a six-play, 75-yard touchdown drive. On third-and-12, he scrambled for 14 yards and a first down. He later added a 6-yard scamper, and then, on third-and-4, he rolled to his right to evade pressure, then found tight end Tyler Burke for a 57-yard touchdown pass that put the Rams up, 21-13 just seconds before the end of the third.
Delaware pulled within 21-19 on an 11-yard touchdown pass with 6:45 to go. The two-point conversion failed, and from there Rhody held on for the victory.

Inside the Box Score
Redshirt senior JaJuan Lawson finished 13-of-21 for 170 yards, one touchdown and one interception. He also rushed for 46 yards. He was 8-for-10 for 136 yards and the touchdown in the second half.
Senior Tyler Burke had two catches for 60 yards. His 57-yard touchdown catch was the longest reception of his career.
Sophomore Justice Antrum scored his first career touchdown on a 2-yard special teams fumble return for a score in the second quarter.
Redshirt junior Zoe Bryant, Jr. made his first career start at running back and ran for 81 yards. He averaged 4.1 yards per carry.
The Rams rushed for 160 yards as a team. Sophomore Matt Pires had 28 yards on three carries. He also caught two passes for 27 yards.
Junior linebacker Branyan Javier-Castillo had a strong debut for Rhody, finishing with a team-high 11 tackles, including 1.5 tackles for loss.
Senior linebacker Justin Hogan had six tackles, one forced fumble and one fumble recovery.
Redshirt freshman Tyler Wipper forced a fumble in the third quarter that was recovered by Hogan.
Junior defensive tackle Brandon Ginnetti had six tackles and a fumble recovery in the fourth quarter.
Redshirt senior defensive back Zay Hill had seven tackles and strong coverage to prevent the potential game-tying 2-point conversion in the fourth quarter.
Junior Aaron Parker's third-quarter touchdown came on the second rushing attempt of his career. His first came on a 4-yard gain earlier in the drive.
Parker had a team-best three catches for 35 yards despite only playing in the second half. He did not play in the first half due to a suspension stemming from an ejection in the 2017 season finale.
When Delaware scored in the second quarter, it snapped a scoreless stretch of 92:02 against Rhode Island. Rhode Island had shut out the Blue Hens for six straight quarters, dating back to 2:02 of third quarter in a 28-13 victory over URI on Nov. 11, 2014.
Rhode Island was 5-for-5 on third down conversions in the third quarter.
Sophomore kicker C.J. Carrick converted all three of his extra points and also had a tackle with a big hit on a third-quarter kick return.
Right tackle Kadin Booker, linebacker Branyan Javier-Castillo and defensive end Keith Wells all started in their Rhody debuts.
Also making their debuts for the Rams were wide receivers Ahmere Dorsey and Ed Lee, defensive tackles Emil La Marca and James Makszin, linebackers Chris Arrington, Isaiah Moak, Jalen Williams and Andre Johnson, offensive lineman Nick Correia, defensive backs Brian Campbell and Malik Wilder and defensive end Tyler Wipper.
The anchor bearer was senior tight end Tyler Burke.
The attendance for the game was 17, 945.
What's Next
Rhode Island hosts Albany on Saturday, Sept. 8 in the home opener. The game will be streamed for free on Fox Sports Go/Fox College Sports.