URI graduate becomes first woman of Kingston Fire Department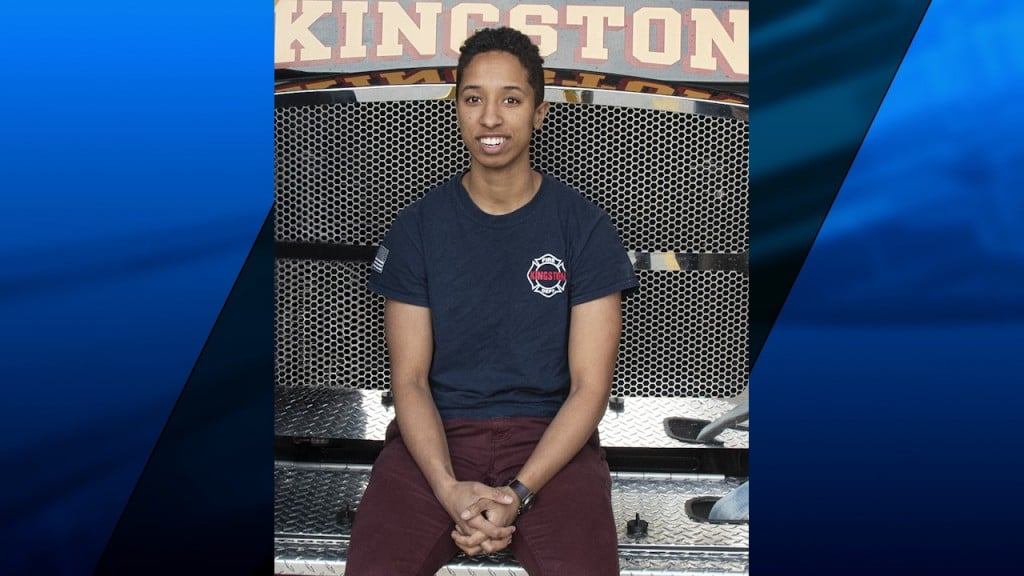 KINGSTON, R.I. (WLNE) – A University of Rhode Island graduate became the first female firefighter at the all-volunteer Kingston Fire Department.
Milford, Connecticut native Rachel Gomes, went to the University of Rhode Island to earn her master's degree in environmental science and management.
What she didn't know, was that she would eventually break barriers and change history by joining the local Kingston Fire Department.
In a release, the university said that Gomes earned her degree earlier this year. She described herself as an "athletic person who loves helping the community and challenges herself physically."
"I felt like I needed to gain more skills that classic education wasn't going to give me," Gomes said. "I wanted to challenge myself, learn how to react to stressful situations, and learn practical skills. I saw that the fire district needed student volunteers, thought it was the perfect opportunity, and signed up."
The Kingston Fire Department is constantly looking for volunteers who can pass the physically taxing training process.
"Rachel is extremely well-trained, adaptive and can handle stressful situations very well. She has those innate characteristics that every firefighter has," Kingston Fire Chief Nate Barrington said. "This is a historically male dominated field, and having people like Rachel who possess those traits and are hardworking is a proud moment for us and the field."
Despite standing 5 feet, 5 inches tall and weighing 125 pounds, Gomes said her size never stopped her from accomplishing any task at the station, and even found creative ways to get the jobs done.
"I had to approach problems differently than my male fellow colleagues would generally approach them," Gomes said.
"Some people muscle through it, but smaller people like myself have to strategize. For example, to grab the ladder, you would typically go in the middle where the balance point is and just take it out, but I'll start from the back and work it to the middle so that I'm not pulling the full portion of the ladder. Little tricks like that help me."
Gomes asked the department if there were any other women a the station. Although disappointed by the answer, she was determined to become part of it anyway.
"I knew it was going to be a challenge but I still wanted to do it," she said. "There are female firefighters around but not here. It is different keeping up with an environment with guys twice my size. But you definitely have to work harder and find different ways that work for you and ways to compliment others here."
Recruitment coordinator, Erik Brierly, said the training period consists of two levels – the applicant and probation packet. Trainees at the station start with the pick up, heavy rescue, engine, and ladder training.
"There are plenty of grown men, adults and fit guys I have seen that don't make it through the training," Brierly said. "Rachel has gone through the same training that we've all gone through. The weight of the ladders or hoses don't change, temperatures don't change. But she finds what works for her and makes it work very well."
URI student volunteers are able to live rent-free at the station, in return for maintaining "on-call" coverage, seven days a week.
Additionally, student volunteers are eligible for tuition reimbursement of up to $3,000 a semester. Textbooks and other school expenses are reimbursed after hitting certain benchmarks. The department said that Gomes took advantage of all of these while enrolled in graduate school.
"Thanks to the Staffing for Adequate Fire and Emergency Response grant, these students can balance their school work as well as volunteering here," Brierly said. "This grant helps us increase recruitment and retention. Even if they are not a URI student and if they take an online class, we'll give them a reimbursement. What they get from the education reimbursement is what we get from their retention."
Gomes said she sees her experience at Kingston Fire Department has taught her how to respond in stressful stations, while developing leadership skills.
"If you want to be here, then you'll feel like you belong here and I have never been made to feel otherwise," Gomes said. "I definitely encourage others, especially women, to sign up. It might seem intimidating but once you get here, you won't feel that way."