URI launches new site to explain climate change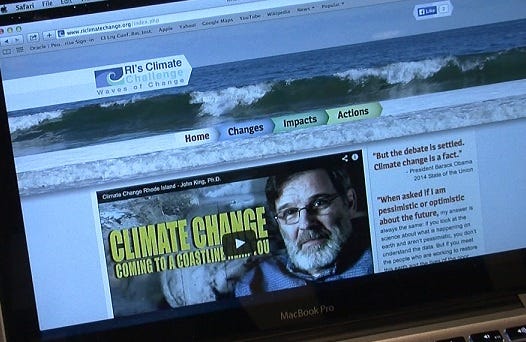 By: Chelsea Priest
We saw temperatures in the 50s this weekend, then dropping down to the 30s for the work week. Temperatures have been fluctuating all winter and it's not just month to month, it's year to year, and even decade to decade.
With the sun shining and the ocean calm, the discussion was quite the opposite at the URI Coastal Institute. The talk was focused on climate change and the extreme weather we have seen in recent years. A video on the homepage of the website explains that "as the frequency of extreme weather events goes up, that signals a shift in the climate system."
Scientists at the University have launched a website www.RIclimatechange.org to discuss how climate change affects the Ocean State.
Judith Swift is the Director of the URI Coastal Institute. She explains, "What I like is the fact that there's a mix of ways for people to get to the information, they can do it through cartoons, they can through it through videos, through visuals, through text."
With climate change being such a hot toping in recent years, the website aims to break down the issues in a very user-friendly way. Senator Sheldon Whitehouse was at the launch Monday. He explains more about the site, "For the people who are legitimately debating it then I think coming to the website to learn a little bit more would be helpful. Once you understand what's happening, you're going to want to take action."
Images of Providence underwater are not meant to scare but to help spread the word of climate change and to keep the conversation going. Swift goes on, "We have to get people to recognize that it's with us, it's real, and make them comfortable with the ever encroaching impacts."
© WLNE-TV 2014