URI Loses Home and Conference Opener As Turnover Problems Continue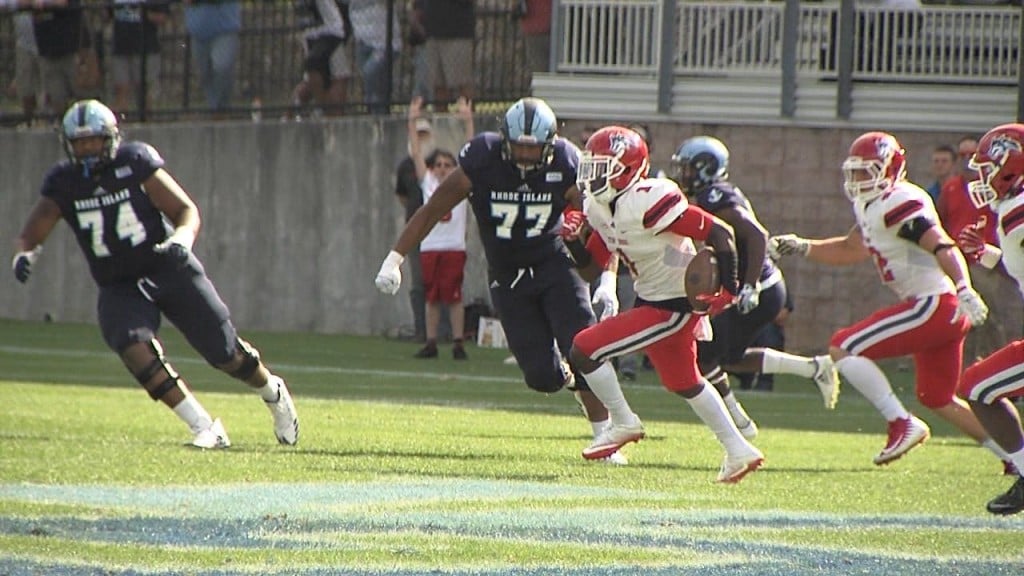 How it Happened?
Rhode Island dropped its 2017 home and CAA Football opener, 35-18, to Stony Brook at Meade Stadium Saturday afternoon.
After receiving the opening kickoff, the Rams (0-2; 0-1 CAA Football) turned the ball over on their first play from scrimmage, leading to a Stony Brook (1-1; 1-0 CAA Football) touchdown less than two minutes into the first quarter. SBU running back Stacey Bedell rushed three times for 16 yards before finding the end zone. The Seawolves pushed their lead to 14-0 late in the first quarter on a 10-yard strike from Joe Carbone to Ray Bolden, capping a six-play, 85-yard drive.
Rhody opened the second quarter with a drive into the Stony Brook red zone, thanks to a 32-yard reception by Khayri Denny and an 18-yard pass to Aaron Parker from quarterback Tyler Harris. But the drive was snuffed after Harris' pass was intercepted in the end zone with 10:54 to go in the half. The URI defense held the line, forcing the SeaWolves into a three-and-out on the ensuing drive.
A roughing the kicker penalty by Stony Brook at its own 36-yard line took Rhody to the edge of the red zone (SBU 21), but a holding penalty and two incomplete passes led to a 43-yard field goal attempt by place kicker C.J. Carrick, which sailed wide left. Stony Brook led, 14-0, at the half.
With 7:24 left in the third quarter, Carbone completed a 9-yard strike to Ray Bolden to push the lead to 21-0. After the Rhody defense forced Stony Brook into its second three-and-out of the quarter, Tyler Harris found Aaron Parker on a first down, 63-yard touchdown strike to get on the board with 2:51 left in the quarter. Carrick's PAT attempt was good, making it 21-7.
The Rhody defense came up big again, as Jose Duncan forced and recovered a fumble by running back Jordan Gowins, returning it to the Stony Brook 5-yard line. The Rams settled for a 21-yard field, capping a furious close to the period.
Stony Brook ended the momentum, answering quickly in the fourth quarter. A 10-play, 67-yard drive was capped by a 4-yard plunge into the end zone by Donald Liotine, making it 27-10. The Seawolves added another score with just under eight minutes to play, extending their advantage to 35-10.
JaJuan Lawson entered the game for the Rams in the fourth quarter and helped engineer a late touchdown drive, capped by the redshirt junior's 3-yard scamper around the right guard. He made the two-point conversion pass to Khayri Denny, which made the final score 35-18.
Inside the Box Score
Sophomore Aaron Parker caught four passes for 96 yards, including a third quarter touchdown on a 63-yard reception.
He becomes the sixth player in URI history to catch a TD pass in four consecutive games, joining Cy Butler, Bobby Apgar, Brian Forster, Dameon Reilly, and most recently, Shawn Leonard in 2009.
Redshirt junior Tyler Harris was 15-of-32 for 185 yards, with a touchdown pass and two interceptions.
Redshirt junior Marven Beauvais, junior Khayri Denny, and senior Harold Cooper each had five catches on the afternoon.
Junior D.J. Stewart registered 11 stops on the afternoon. It marks the sixth time in 13 starts that Stewart has reached double digits in the tackle column.
Senior Harold Cooper topped 100 all-purpose yards for the sixth straight game, dating back to last season. Cooper had 123 total yards – 45 rushing yards, 29 kick return yards, 25 punt return yards, and 24 receiving yards. He has 19 career games with 100 or more all-purpose yards.
Freshman Satchel Denton punted eight times for 346 yards. He had a long boot of 55 yards.
Freshmen Ivory Frimpong and Matt Pires each hauled in their first career receptions in the fourth quarter. Frimpong finished with two catches for 14 yards while Pires made a single grab for 14 yards.
Redshirt junior JaJuan Lawson entered the game in the fourth quarter. The New Mexico transfer was 11-for-18 for 96 yards and rushed three yards for a touchdown on a quarterback keeper around the right end.
Stony Brook quarterback Joe Carbone's father Guy was a standout football player at Rhode Island from 1982-85 and was voted to the 2012 Rhody Grand Team that celebrated the top 50 players in program history.
Rhody falls to 0-5 all-time against Stony Brook.
Season captains for Rhode Island were senior running back Harold Cooper, senior defensive end Jose Duncan and fifth-year senior defensive tackle Mike Ezirike.
Senior defensive back Isaiah Hill was the game captain, while redshirt sophomore Momodou Mbye was the team's anchor bearer.
Rhode Island's RECON-RAM Players of the Week were freshmen linebacker Justin Samardich, running back Justice Antrum and safety Henry Yianakopolos.
Stat of the Game
45 – Rhode Island has scored all 45 of its points on the season in the second half and overtime.
What's Next
Rhode Island stays at home to host Harvard on Saturday, Sept. 16. Kickoff is set for 1 p.m. A live stream of the contest will be available on CollegeSportsLive.com. Steve McDonald and Terry Lynch will provide the broadcast call on the Rhody Radio Network on NewsTalk 920 AM and on the iHeartRadio app.