URI Makes Huge Comeback, But Falls Short Against George Mason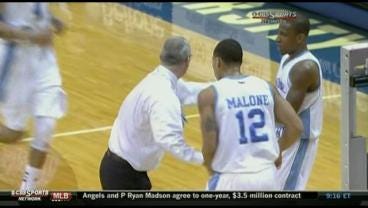 Ken Bell
URI news release…
Rhody Rally Comes Up Just Short Against George Mason
What it Means:
Rhode Island (1-6) battled back from a 13-point halftime deficit but fell 55-52 to George Mason as a 3-point shot from Nikola Malesevic in the final seconds bounced off the back of the rim.
Trailing 54-49, the Rams got a 3-pointer from Mike Powell to pull within two. George Mason (5-2) turned the ball over on its next possession as Xavier Munford drew a charge to create a turnover, but with a chance to tie, Rhody was unable to get a score.
A free throw by the Patriots Sherrod Wright made it 55-52 with 21 seconds to go. Malesevic got a good look at the basket, but his shot was just off.
Inside the Box Score and Beyond:
* Guard Xavier Munford had a game-high 24 points. It was his third game this season with at least 24 points. Munford hit three more treys, giving him 11 in his last two games.
Munford had a team-best 12 points in the first half, making him the third Ram to score 12 in the opening 20 minutes of a game this season. Mike Powell did so against Seton Hall, and Nikola Malesevic hit the mark against Norfolk State.
* Mike Powell joined Munford in double figures, finished with 12 points. He added four assists, two steals and zero turnovers in 36 minutes.
* Rhode Island struggled from the free throw line, hitting just 13-of-26 (50 percent). The Rams shot 20 percent (2-of-10) from the free throw line in the first half, and improved to 69 percent (11-of-16) after halftime.
* Rhode Island trailed 35-22 at the break, its largest halftime deficit of the season. Rhody used a 15-2 run at the start of the half to tie the score 37-37. The Rams held George Mason scoreless for the first 6:10 of the second half.
* Freshman Jordan Hare continues to make his presence felt on the defensive end. He had six blocked shots, giving him 21 already for the season. The rest of the team has 13 combined.
* Senior Ryan Brooks led Rhody with a career-high 10 rebounds, beating his previous best of nine set earlier this season against Seton Hall. Brooks also matched his season high with four points.
* Rhode Island committed a season-low six turnovers and had 12 assists as a team. Through seven games, the Rams have had single-digit turnovers three times.
* The Rams allowed George Mason to score just 55 points. Through seven games this season Rhode Island has allowed 70 or more points once, which came in Sunday's 78-72, double-overtime win at Auburn. Last year, Rhody gave up 70 or more points 23 times in 31 games.
What's Next:
The Rams stay at home to host Vermont Saturday, Dec. 1. Tipoff against the Catamounts is set for 2 p.m.
Steve McDonald and Don Kaull return to bring you the call on the Beltone Hearing Aid Centers Rams Radio Network (WHJJ 920 AM; The Wolf 102.3 FM). This – and all Rhody games on radio – can be heard on the internet or your smartphone device through iheart.com or the iHeartRadio app.