URI Men's Basketball Releases 2020-2021 Schedule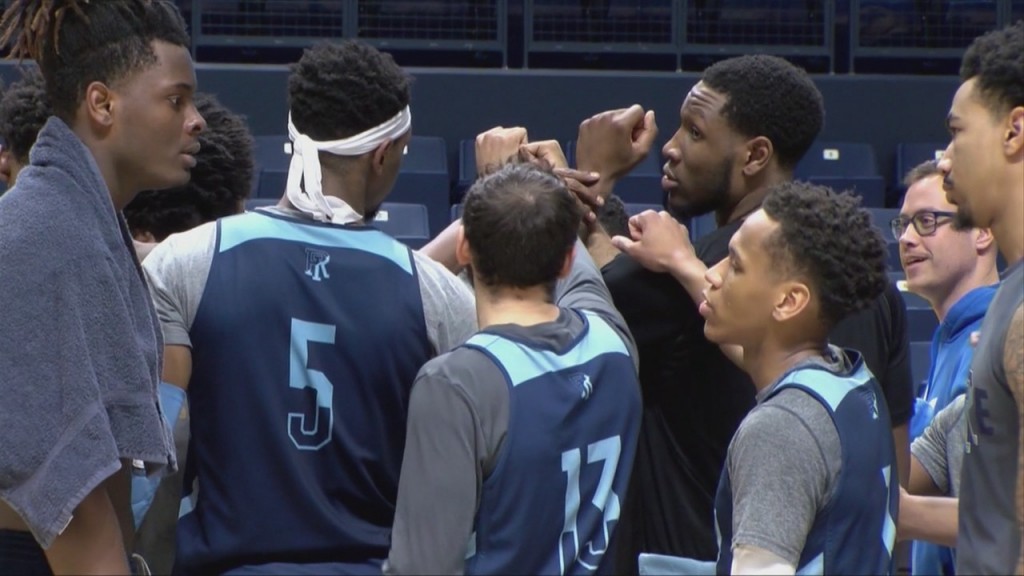 University of Rhode Island Press Release
KINGSTON, R.I. – The Rhode Island men's basketball team will be featured on a national-television audience 13 times in its 26-game schedule.
The Atlantic 10 released its conference schedule Wednesday, and the Rams will be featured on a national broadcast 10 times in the 18-game slate. In addition, non-conference games against South Florida, Temple and Seton Hall will play to a national audience.
Rhode Island's conference schedule begins with a home date against Davidson on Dec. 18, a game that will be carried by ESPN. It is the earliest start to league play since URI played St. Bonaventure on Dec. 6 during the 1993-94 season. In order to accommodate the early A-10 contest, Rhode Island's game at Western Kentucky has been moved to Dec. 13, as the schools worked together to find a solution to the agreed upon contest.
Davidson will be one of two December league games this season, as the Rams will host St. Bonaventure on Dec. 30. It will be the first time in program history the Rams have two league games played before New Year's Day.
Rhode Island will play six games on CBSSN through the Atlantic 10's television package. Games on CBSSN will include the home opener against Seton Hall (Dec. 2), road games against Richmond (Jan. 6), VCU (Jan. 9), Dayton (Jan. 30) and Saint Louis (Feb. 10), and, finally, the home game against Dayton (Feb. 16).
NBCSN will carry three home games for the Rams, getting dates against Saint Joseph's (Jan. 3), George Mason (Jan. 16) and George Washington (Jan. 24).
In addition to the league opener against Davidson, the ESPN family of networks will carry Rhode Island's home game against Massachusetts on Feb. 6. Additionally, ESPN has coverage of the Air Force Reserve Basketball Hall of Fame Tip-Off games against South Florida (Nov. 28) and Temple (Nov. 29).
League games that are not part of a national television broadcast will be streamed on ESPN+. Plans for local broadcasts of URI home games will be announced at a future date.
2020-21 Rhode Island Men's Basketball Schedule
Nov. 25 – vs. Stephen F. Austin
Nov. 26 – vs. Towson
Nov. 28 – vs. South Florida (ESPN Networks)
Nov. 29 – vs. Temple (ESPN Networks)
Dec. 2 – Seton Hall (CBSSN)
Dec. 4 – at Boston College
Dec. 13 – at Western Kentucky
Dec. 18 – Davidson (ESPN)
Dec. 30 – St. Bonaventure (ESPN+)
Jan. 3 – Saint Joseph's (NBCSN)
Jan. 6 – at Richmond (CBSSN)
Jan. 9 – at VCU (CBSSN)
Jan. 16 – George Mason (NBCSN)
Jan. 20 – at Duquesne (ESPN+)
Jan. 24 – George Washington (NBCSN)
Jan. 27 – at La Salle (ESPN+)
Jan. 30 – at Dayton (CBSSN)
Feb. 3 – VCU (ESPN+)
Feb. 6 – Massachusetts (ESPN Networks)
Feb. 10 – at Saint Louis (CBSSN)
Feb. 13 – at Davidson (ESPN+)
Feb. 16 – Dayton (CBSSN)
Feb. 20 – Fordham (ESPN+)
Feb. 27 – at Massachusetts (ESPN+)
March – at Saint Joseph's (ESPN+)