URI Mobile Health Unit Provides Remote Testing Site in Central Falls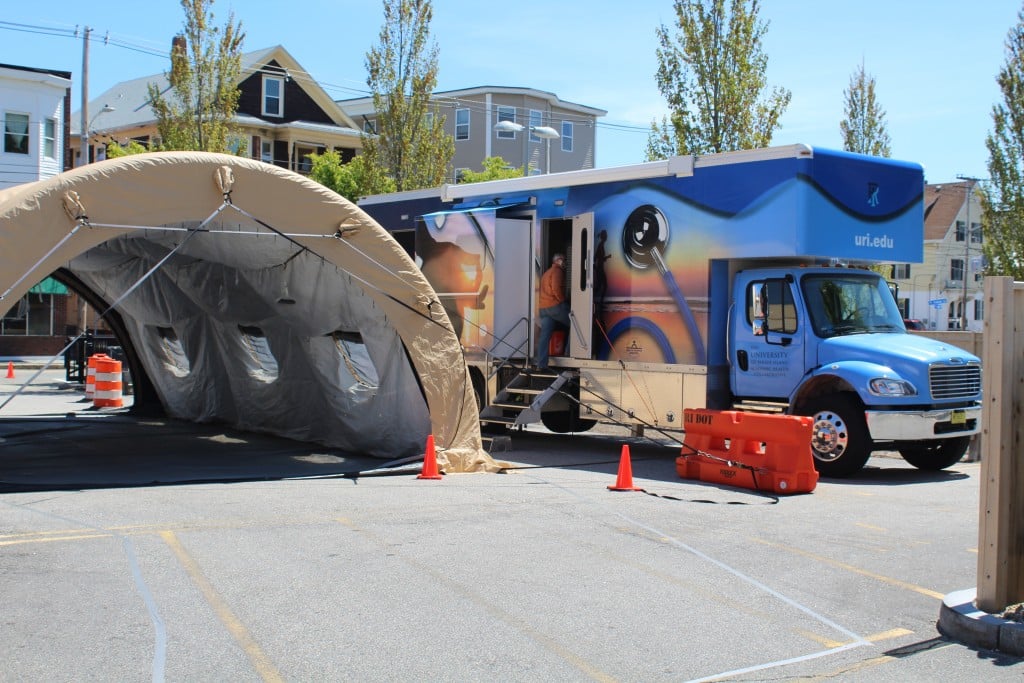 CENTRAL FALLS, R.I (WLNE) – The URI 'Rhode to Health' mobile unit is serving as a testing site in one of the most vulnerable communities in the state, Central Falls.
A partnership with the Department of Health, Emergency Disaster Response Testing Services, and URI allowed the deployment of the mobile unit.
Part of the Beat COVID-19 initiative with Central Falls and Pawtucket, the unit is stocked with the same Abbot rapid testing machines used at larger sights like Twin River.
The tests can produce results in as little as 15 minutes.
"We are trying to reach residents who may not have access to transportation to get to the larger testing facility," said Bryan Blissmer, director of URI's Institute for Integrated Health and Innovation, who reached out to RIDOH to offer the mobile unit's services.
"This is really designed to meet the needs of a particular population that may otherwise not be reached. This kind of on-location health service to the community is exactly what the Rhode to Health unit was designed for. I was really excited to be able to use it in a meaningful way to help fight the pandemic", he continued
Residents of both Pawtucket and Central Falls are reminded that services from the mobile unit are by appointment only.
Those who wish to make an appointment can do so by calling 855-843-7620
Once an appointment is made, residents can drive or walk into the parking lot of  a former bank building on Dexter Street in Central Falls.
The National Guard erected drive-through tents at the site where employees from Alert EMS provide cotton swabs for residents.
The fact that false-negative results are possible with COVID-19 tests, residents are informed that a negative test does not necessarily mean they are free of the illness.
"They are encouraged to isolate, especially while symptomatic," Blissmer said.
"We feel confident in the positive results and try to weigh the benefit of being able to quickly identify positives and start quarantining and contact tracing while managing the risk of a negative result encouraging overconfidence in individuals. We stay in touch with the DOH, CDC, and Abbott to ensure we follow current guidelines for test administration."
Several of the pharmacists, nurse practitioners and physician's assistants staffing the Rhode to Health are URI graduates, including Mary Ellen Pease-Madsen.
She said the test results are uploaded to the state's database, providing near real-time updates to the state numbers.
The unit has been testing 50 people a day so far, and Pease-Madsen is looking to double that number.
"We estimate we need to be testing about 100 people a day, which we have the capacity to do," Pease-Madsen said.
"There is a bit of a hot spot here, so we want to identify as many people infected with the virus as we can. Every positive test we get demonstrates the importance of having a testing site in this community."
The remote testing site helps provide critical information and will give peace of mind to the residents according to Robert Munoz, an Alert EMS employee who graduated from URI's College of Health Sciences with a bachelor's degree in kinesiology and biology.
Munoz has also been serving as a Spanish translator, to ensure the procedure is followed correctly and safety protocols can be met.
"Everything has to be done properly and safely, and we have to make sure people receive the information they need," Munoz said.
"I'm really happy to be here doing this work every day; it's great to be working with URI on this. Everyone is very thankful that we're here for them. It's been really rewarding", he continued.
©WLNE-TV/ABC6 2020