URI Mourns the Loss of Former Basketball Coach Jack Kraft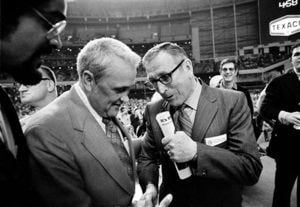 URI news release…
Rhode Island Mourns the Passing of Former Head Coach Jack Kraft
KINGSTON, R.I. – Former Rhode Island men's basketball coach Jack Kraft died at the age of 93 Thursday.

The coaching legend – who won 361 games in 20 seasons with Villanova and Rhode Island – passed away in New Jersey.
"The entire Rhode Island community mourns the passing of Mr. Kraft," said Rhode Island Director of Athletics Thorr Bjorn. "He had a profound impact on our basketball program, and on athletics at URI as a whole. Our thoughts and prayers are with his family."
Kraft coached the Rams from 1973-80, compiling a record of 103-88. His best season came during the 1977-78 season, when he led the squad to a 24-7 overall record and the team's first NCAA Tournament appearance in 12 years. A year later, he posted another 20-win season and a trip to the NIT. He is one of five coaches to win at least 100 games with Rhode Island, joining Frank Keaney, Ernie Calverley, Al Skinner and Jim Baron.
Before coming to Kingston, Kraft had a highly successful 12-year stint as head coach at Villanova, where he was 243-95. He took the Wildcats to the 1971 NCAA Championship game, where they lost to UCLA, 68-62. Overall, he led Villanova to six NCAA appearances and five NIT bids. His winning percentage of .715 is the highest of any Wildcats' coach.