URI Remove Interim Tag, Name Raphael Cerrato Permanent Rams Baseball Coach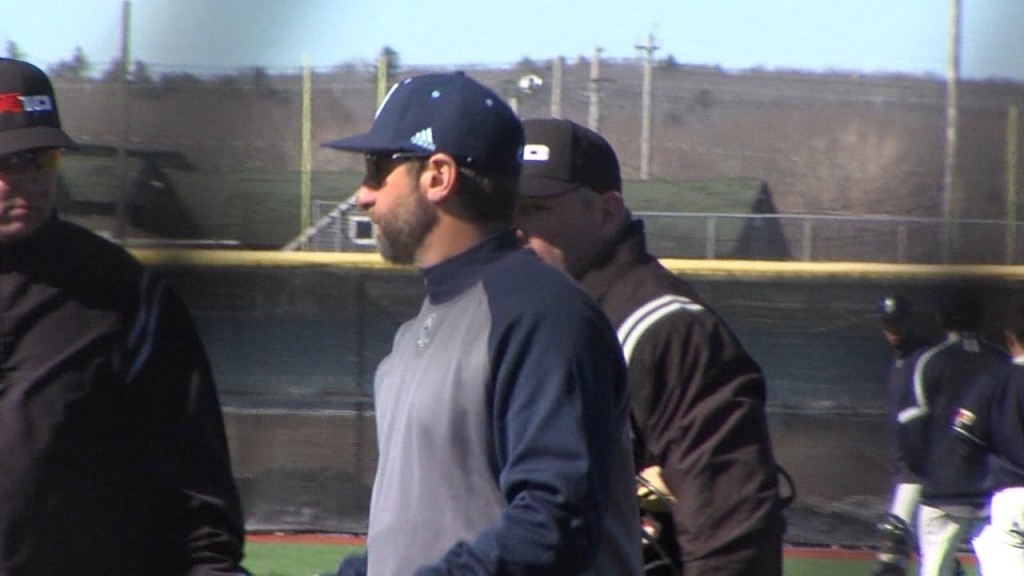 URI news release…
KINGSTON, R.I. –
Rhode Island Director of Athletics
Thorr Bjorn
has announced that
Raphael Cerrato
will stay on as head coach of the Rhode Island baseball program, following his one-year stint as interim head coach.
"I couldn't be more excited about the job Coach Cerrato did over this past year," Bjorn said. "He possesses all of the characteristics and skills needed to create a championship program. URI baseball will have a very bright future under his direction."
Cerrato's interim season was one of the most successful in recent years for the Rams, who went from 13-40 (7-18) in 2014 to 26-25-1 (15-9) in 2015. The team's first victory came in the form of a 6-3 upset over 11th-ranked North Carolina.
"It is hard to explain how much this means to me and my family," said Cerrato, a Ram himself (1989-93) as well as a former team captain and Atlantic 10 All-Conference selection. "Being a URI alumus as well as a former student-athlete here, there is no other coaching position in the country that I would want. I feel like I have been working the past 18 years to earn this opportunity and I expect to continue the winning tradition that Frank Leoni and Jim Foster established."
After opening this year's Atlantic 10 schedule with a series loss at Saint Louis, Rhode Island bounced back with six consecutive conference series wins – including a three-game sweep of Saint Joseph's and a pair of 2-1 road weekends at both Richmond and 2015 NCAA Super Regional participant VCU.
Overall, the Rams finished just one game behind regular season champion Saint Louis. The impressive turnaround quickly earned Cerrato the respect of his peers, who voted him the Atlantic 10's Coach of the Year – just a few months after picking URI to finish 11th of 13 in the league's preseason coaches poll.
Cerrato is quick to deflect the praise however, insisting that Rhody's success had more to do with the family-like culture that began to develop in the fall, carried the team through the winter and translated to success in the spring.
"I think a major reason we had success this year was the closeness of our team," he explained. "The players really came together and pulled for one another. They enjoyed coming to the field and working hard every single day. It was an absolute pleasure to coach them.
"The entire coaching staff did an outstanding job as well. It's actually amazing when I think about how quickly we all meshed, especially since we weren't together as a full staff until just a week before fall practice began. I couldn't ask for better coaches to work with than
Jim Martin
and
Sean O'Brien
. They are completely invested in our student-athletes' success, both on and off the field."
With a strong core of veteran players and a talented class of newcomers this past season, the Rams played their way into the finals of the Atlantic 10 Championship. Despite falling to VCU, 5-3, it was clear that the team had taken a huge step forward in advancing to its first A-10 final since 2009.
"We will return many of the players from this year's team and I know that the guys are excited to get back here in the fall and get to work," Cerrato said. "We have one goal in mind – to win an A-10 championship and return to the NCAA regionals. With so many good teams in our conference, we understand how difficult that is going to be, but we are going to enjoy every step of the process.
"We have student-athletes and coaches that are truly proud to wear that Rhody uniform, and that might be the thing that means the most to me. I couldn't be more excited about the future of this program."
It's a future that Rhody fans should be excited about as well, as Cerrato – who served as URI's top assistant and recruiting coordinator from 2012-14 – was responsible for bringing in nearly all of the players on Rhody's 2015 team, including San Diego Padres 2015 Draft pick
Lou Distasio
. Cerrato further proved his ability to recruit top-notch student-athletes with the signing of Seamus Curran, who just became Rhode Island's highest-ever MLB Draft pick as an incoming freshman when he was selected in the eighth round by Baltimore.
While Curran will forfeit his collegiate eligibility to sign with the Oriels, the 2016 Rams will still feature a wealth of talent and experience in returning Freshmen All-Americans
Chris Hess
and
Tyler Wilson
, All-Conference performer
Martin Taveras
and A-10 All-Championship Team selections
Ryan Olmo
and
Jordan Powell
. Rhode Island also will welcome back the bulk of its pitching staff as well as the majority of its every-day starters.
"I want to thank Director of Athletics Thorr Bjorn and Associate Athletic Director John Vanner, along with the rest of the search committee, for trusting in me to be the next head coach at the University of Rhode Island," Cerrato added. "With the help our loyal alumni, friends of the program and support staff, I plan to continue the growth of this program.
"I also want to thank my wife Kerri. I know it's not always easy being the wife of a college baseball coach, with all of the travel and long hours we put in. I wouldn't be able to do what I do without her support."
Transaction:
Raphael Cerrato (Rhode Island '94) appointed Rhode Island baseball's permanent head coach, after spending the 2015 season as interim head coach for the Rams.