URI Sports Teams Get Major Upgrade with New Strength and Fitness Facility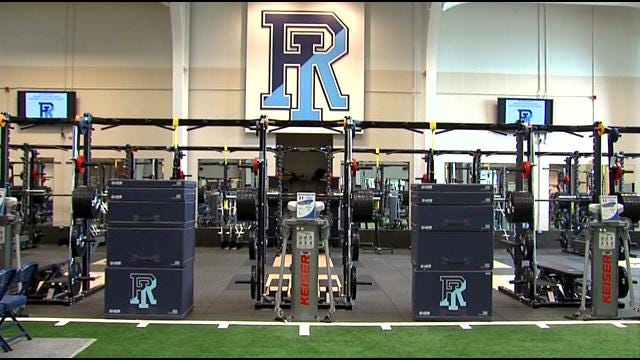 URI news release…
KINGSTON, R.I. — The University of Rhode Island held a ribbon-cutting ceremony for the new Ryan Family Student-Athlete Center (RFSAC) on Friday, April 11 inside the new facility.
The ribbon cutting ceremony included Tom and Cathy Ryan, lead donors for for the critically important project. The Ryan's, along with close to 200 donors, contributed over $2.5 million dollars for the facility.
"Cathy and I are very proud of our relationship with the University of Rhode Island and URI Athletics and we are delighted to support this most recent project," said Tom Ryan. "The Ryan Family Student-Athlete Complex is going to benefit all URI student-athletes for years to come. It will improve and enhance all aspects of the student-athletes' experience at Rhode Island. The project will also play an instrumental role in recruiting the highest quality student-athletes at URI."
Construction on the project – formerly designated the Student-Athlete Development Center (SADC) – began in July, 2013 and continued into the change in calendar year. The RFSAC held a "soft opening" for the Eleanor Carlson Strength & Conditioning and Anthony J. Rose Athletic Training Room & Sports Medicine Centers. The 400-plus Rhode Island student-athletes have had access to and have utilized the dramatically improved areas since returning to campus in late January at the conclusion of winter break.
The new Eleanor Carlson Strength & Conditioning Center transformed the previous Tootell East gymnasium space into a nearly 8,000 square foot state-of-the-art, cutting edge strength & conditioning center that includes the following:
Turf space – 30×20 yards – for speed and conditioning drills
Automated timing system – the same system used at the NFL Combine provides accurate digital timing for speed
Functional movement screening kits – used to assess student-athletes for injury preventative purposes
Keiser Functional Trainers – multi-functional air pressure resistance machine that can digitally track power output and can be used for hundreds of different exercises
Cognitive cave – for sport psychology assessments; will also assist with concussion testing
Just Jump System – records digitally accurate measurements of the vertical jump
Drive Sleds – utilized in resistance speed work
TRX Suspension Trainers – industrial-grade nylon bands designed to develop strength, endurance, power, and mobility
Pit Shark Belt Squat Machine – allows athletes to be able to squat without loading at the shoulder
Vertimax V8 machines – allows for resisted plyometric training
"This important project reflects the deep appreciation of the University of Rhode Island for the numerous, high-impact contributions our student athletes make to our community," said David M. Dooley, President of the University of Rhode Island. "We want them to be even more successful, in their programs of study, in competition, and in the leadership and service they provide. Tom and Cathy Ryan have long been enthusiastic supporters of URI and its students, and we are pleased to name this new facility in their honor."
The Anthony J. Rose Athletic Training Room & Sports Medicine Center expanded upon the previous home for URI's athletic trainers.
The renovated area features new office space, upgrades in technology, athletics branding, and office suite expansion to include space for team physicians, consultation and examination rooms, and a physical therapy area. A new hydrotherapy room was installed, with hot and cold capabilities to help treat and prevent injury for the student-athletes.
The Katie DeCubellis Memorial Foundation Student-Athlete Athletic Commons & Advising Center now occupies the entire hallway in Keaney Gymnasium, adjacent to the Tootell building.
Rhode Island's new home for academic advising for student-athletes features newly created and upgraded computer labs, tutorial rooms for one-on-one counseling, high-tech meeting/presentation rooms, and a student-athlete lounge/study area.
The Winter Family Foundation & Wicks Family Champions Gallery is located throughout the East corridor of Tootell, stretching from the Ryan Center entry door all the way past the Eleanor Carlson Strength & Conditioning Center.
The Champions Gallery features elegant wood paneling, specially-designed lighting treatment, and custom-designed wall treatments that recognize and honor each program that makes up the long and storied history of URI Athletics.
"I would like to thank the many donors for their incredible support of this very important transformational project. I would especially like to thank Tom and Cathy Ryan and their family for providing us with the naming rights gift allowing us to move this project forward," said Thorr Bjorn, URI's Director of Athletics.