URI students tread icy walkways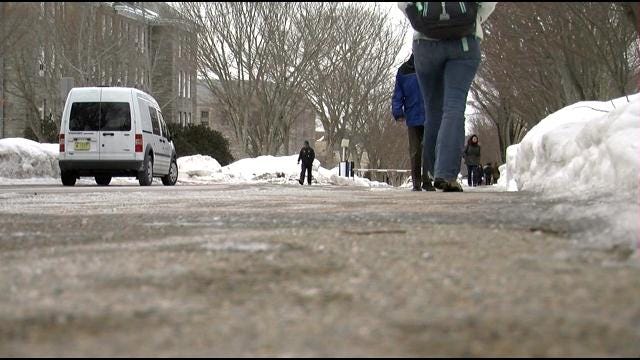 By Dana Griffin
@DanaGriffinABC6
KINGSTOWN, RI- "You see people fall all the time and it's pretty funny but you just don't want to be that person" said student, Adrianna Nordhill.
That's the likely thought on every student's mind at URI. Ice–covered sidewalks and parking lots made it harder getting to class.
"They've been pretty bad. Especially the parking lots and just like anywhere around the quad it's just really icy and just pretty horrible," said Nordhill.
Walking very cautiously– students had no choice– they've already had four snow days this year.
"We always gear up to be open. Clearly we've had a lot of Mondays impacted this year by snowfall and based on the work we did last night and again the early start this morning, we're confident that we cold get people in and out of their classroom facilities today," said assistant VP of business services, J. Vernon Wyman.
Wyman says crews worked last night and again this morning de–icing foot traffic areas.
The school has been scraping and salting the sidewalks and parking lots to avoid some nasty falls; reminding students to be careful via email and social media.
©2015 ABC6/WLNE-TV. All Rights Reserved.