URI's Nick Greenwood Added to St. Louis Cardinals Roster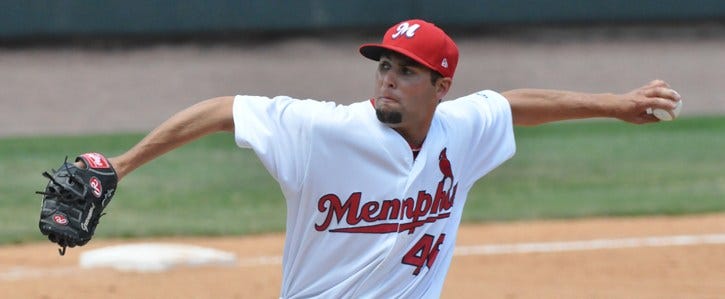 Rhode Island Rams Release
KINGSTON, R.I. – Former Rhode Island pitcher Nick Greenwood has received the phone call of a lifetime. On Saturday night, the St. Louis Cardinals prospect was told that he would be joining the organizations' big league club for Sunday's game against the Washington Nationals.
The catch? He had to keep the news quiet until today.
"It's been one of the hardest things to keep a secret but yesterday I was told that my dream has come true," Greenwood shared on Facebook Sunday afternoon. "Heading up to St. Louis and I will be joining the major league team."
The news comes just two weeks after the former Ram found himself on the AAA All-Star ballot as he turned in a 2.29 ERA over 18 appearances through the first half of the season.
Greenwood is the fifth Ram overall to pull on an MLB jersey and the first since Norm Gigon did so in 1967.
"I couldn't be happier for Nick," URI head coach Jim Foster said. "He is a guy who has continued to grind it out and make himself better each and every day. I know how hard he has worked to get to this point. It's an incredibly tough thing to do, making it to the big leagues. Watching our guys develop as pro ballplayers is a lot of fun. I'm just so excited for him right now, he's very deserving of this opportunity."
In 2009, Greenwood paced the Rams with 74 strikeouts, finishing his junior campaign with a 6.00 strikeout-to-walk ratio in Atlantic 10 games (42 strikeouts, seven walks). He turned in a team-best seven wins, including a victory over No. 25 Ohio State and a complete-game shutout over St. Bonaventure.
The Rhody southpaw and All-New England first team selection also earned A-10 All-Championship honors and picked up the win in the 35th Annual New England Intercollegiate Baseball Association (NEIBA) All-Star Game.
"I just want to thank everyone who has stuck by and has helped me get to this point in my life," the Connecticut native added. "I am truly blessed by so many. Go Cardinals!!!!"