U.S. Attorney General Announces Historic Mob Roundup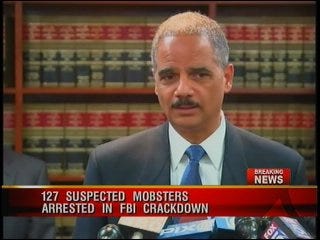 Federal prosecutors say 127 people are facing charges in one of the largest Mafia crackdowns in FBI history.
U.S. Attorney General Eric Holder said at a news conference Thursday in New York City that the defendants include high-ranking members of the Gambino and Colombo crime families and the reputed former boss of organized crime in New England.
Holder says the charges cover decades worth of offenses, including hits to eliminate perceived rivals, a killing during a botched robbery and a double shooting in a barroom dispute over a
spilled drink.
Authorities say the investigation was aided by informants who recorded thousands of conversations by suspected mobsters.