Vandals Ruin Field, Spring Season For Johnston Soccer League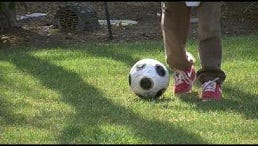 Two teenagers are facing charges for ripping through the turf at the Johnston Soccer Complex with an SUV, an act of vandalism that was caught on camera. Now town officials say the field will not be ready until the fall.
Christian Pezzuco's soccer skills are not usually confined to his backyard, but after surveillance video showed two teenagers doing donuts in the field where he practices, his league was left without a place to play.
"To do this to children, it takes a little piece of your heart," Richard Pezzuco, President of the Johnston Lightening Youth Soccer Association said.
Pezzuco estimates the damage to be roughly $15,000. He says the damage will not be fixed until the fall in order to avoid injuries. Two teens have been charged in the case. The league wants to wait and see if they will have to pay for any of it.
"It's unplayable right now," Pezzuco said. "It's not a field, it's more like a racetrack. That is what they have turned it into."
As long as the tire marks are still clear in the turf, Pezzuco's son Christian will have to score his goals at home, while the rest of the Johnston Lightening Team waits for the teens to face a penalty.
"This time of year there's usually hundreds of kids on that field," Pezzuco said. "The concession stand is going. Coaches are hanging out together. We won't have that this year. There's not much I can say other than why? Why would you do it?"
As of right now, the Johnston team is practicing on open fields they can find. They still have not been able to land down a permanent place to practice this season.