Vatrano, Pastrnak Give P-Bruins Boost In 8-1 Rout of Springfield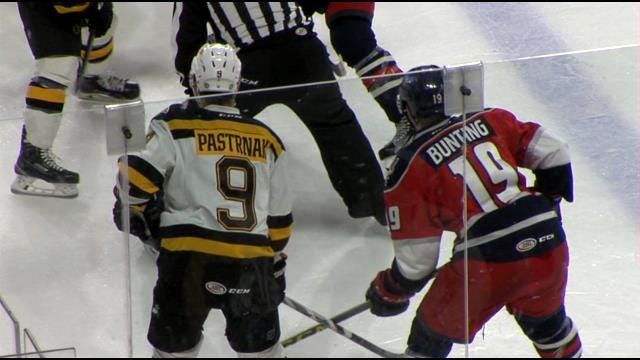 Providence Bruins Press Release
PROVIDENCE, RI- The Providence Bruins looked absolutely dominant in tonight's8-1 victory over the Springfield Falcons. Frankie Vatrano posted his second hat trick of the year (3rd pro hat trick), and went 3-2-5 on the night. Vatrano now leads the PBruins with 16 goals across 14 games. Seth Griffith was good for 1-4-5 and David Pastrnak contributed a goal and two assists as well.
Vatrano set the tone early with a nice power play goal set up by Alexander Khokhlachev and Griffith. Noel Acciai doubled the lead halfway through the first when Langhamer let up juicy rebounds off of Anthony Camara and Linus Arnesson's initial shots.
The P-Bruins went on to score four goals in the second period, including Vatrano's second power play goal of the night and David Pastrnak's first Providence goal of the season. Also tallying in the second was Griffith and Colby Cave.
Justin Hickman rounded out the scoring in the third, and Vatrano topped off his hat trick deflecting a Pastrnak cross in front of the net.
Providence held the Falcons to just 18 shots on net across three periods of play, the second lowest total of the season.
Also worth mentioning was Anton Blidh's first professional fight. Blidh walked away with the take down after spending most of the 3rd period jawing with Springfield's Michael Bunting.
This was the 11th meeting between Providence and Springfield this season. The P-Bruins are 8-3 against the Falcons, outscoring them by a 38-24 margin.
The P-Bruins have a 15 game home point streak and have not lost a regulation game at home since November 22nd against the Lehigh Valley Phantoms.
PROVIDENCE SCORING
#49 Frankie Vatrano (#13 Alexander Khokhlachev, #17 Seth Griffith) 1:16, 1st PP #10 Noel Acciari (#15 Anthony Camara, #28 Linus Arnesson) 10:17, 1st
#17 Seth Griffith (#49 Fankie Vatrano, #9 David Pastrnak) 7:33, 2nd
#49 Frankie Vatrano (#27 Austin Czarnik, #17 Seth Griffith) 13:26, 2nd PP
#25 Colby Cave (#8 Chris Breen) 14:09, 2nd
#9 David Pastrnak (#17 Seth Griffith, #49 Frankie Vatrano) 19:21, 2nd
#12 Justin Hickman (#17 Seth Griffith, #15 Anthony Camara) 2:23, 3rd
#49 Frankie Vatrano (#9 David Pastrnak) 12:46, 3rd
PROVIDENCE GOALTENDING
#47 Malcolm Subban 17 saves on 18 shots