Veteran memorial taking shape in Seekonk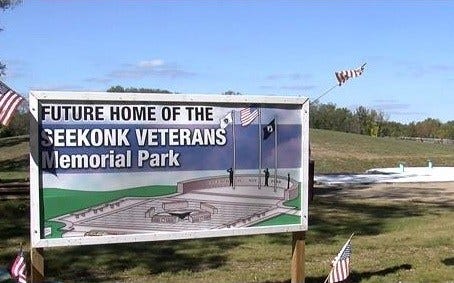 By News Staff
Reporting by Liz Tufts
ltufts@abc6.com
A memorial to honor the service and sacrifice of those who served in the military is finally beginning to take shape in Seekonk. The memorial has been on the minds of veterans for years and it's taken a lot of patience and effort to make the project a reality.
Ground has been broken and construction has started for Seekonk's first Veteran's Memorial Park. By Memorial Day next year, veterans and their families will have a place to go to reflect.
"People don't know what war is," says 90-year-old David Humphrey, one of the soldiers who pushed for the project.
Humphrey is considered one of the most decorated soldiers of World War II, and he says he was one of the lucky ones to come back home alive, "It's for the guys that give their lives, it's for them."
The memorial will have the names of the fallen soldiers etched in the granite.
"We have 24 causalities in this town alone so we can have the freedom we so cherish today," says Robert DeFontes, Vice Chairman of the memorial building committee.
DeFontes, a veteran himself, says it's about time, "There is a veteran in every household, you can rest a sure about that."
The first phase of construction started last month and is right on schedule. The cost is $150 thousand. Taxpayers approved $50 thousand and the rest came from donations.
"You will see a miniature memorial just like you see in Washington DC," says DeFontes.
Construction worker, Joe Velardo, is donating his skills to make the memorial a reality, "They laid down their lives for us, and it's out of respect we do this."
The site sits next to the town's library and where the Memorial Day Parade rolls by every year. It's a day Humphrey has been waiting for, for a while, "I just hope I last long enough to see it."
© WLNE-TV 2015