VETERANS DAY: List of free meals offered to vets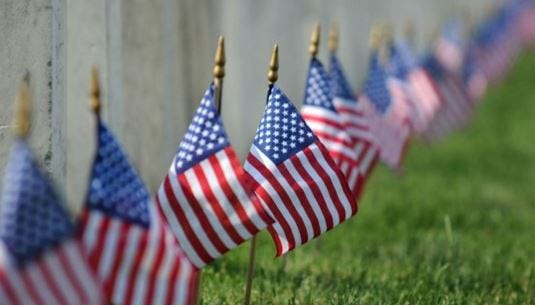 With Veterans Day coming on Wednesday, businesses around the country are offering free meals to service members.
Here is a list of some places offering the free meals:
1. Applebees: Free Applebees Signature Entree.
2. California Pizza Kitchen: Free Entree.
3. Chili's: Free Entree.
4. Denny's: Free Grand Slam breakfast.
5. Golden Corral: Free dinner between 4pm – 9pm. on November 12.
6. Einstein Bros Bagels: Free Coffee.
7. Famous Dave's: Free One Meat Salute.
8. Golden Corral: Military Appreciation Night Free Dinner.
9. Hooters: Choose from free menu items.
10. Little Caesars: Free $5 Hot-n-Ready Lunch Combo.
11. Max & Erma's: Veterans Eat the Free Best Cheeseburger in America.
12. Olive Garden: Free meal from special menu.
13. Outback Steakhouse: Free Bloomin Onion appetizer and beverage.
14. Sizzler: Free Lunch and beverage.
15. Texas Roadhouse: Free Lunch.
16. IHOP: Free red, white and blue pancakes from 7 a.m. to 7 p.m.
(C) WLNE/TV 2015