Vicious Democratic Race for Attorney General Ends, Kilmartin Gets Nod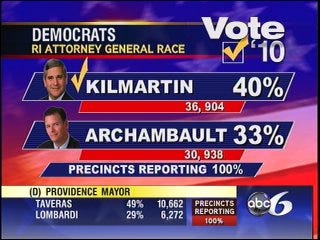 The often-vicious race for the Democratic nomination for Attorney General ended last night with Peter Kilmartin securing the nomination.
Kilmartin garnered 40% of the vote over challengers Stephen Archambault, who got 33% of the vote, and Joe Fernandez, who pulled in 27%. Kilmartin, a longtime Pawtucket police officer and house majority whip, will face Erik Wallin in the general election.
In the days leading up to the election, a series of anonymous emails were circulated to the media: one accused Kilmartin of getting preferential treatment in a 2007 traffic stop on St. Patrick's Day in which the author insinuated Kilmartin had been driving drunk (despite police saying he did not appear to be); the other accused Archambault of having drunk-driving arrests on his record (which is not true).
Kilmartin himself also dredged up a traffic stop several years ago involving Archambault – a former Jamestown police officer – allegedly launching into a profane rant against the DEM officer who pulled him over – which Archambault denies.
(CORRECTED to reflect that Archambault was a Jamestown officer, not a Johnston one…typo)