Victor Martinez Helps Mud Hens Edge PawSox In Series Finale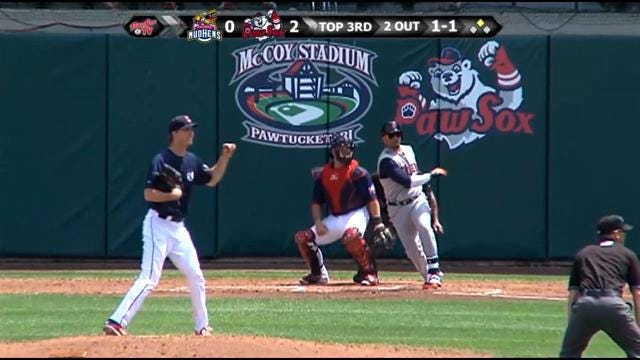 Pawtucket Red Sox Press Release
(Pawtucket, RI) – The Pawtucket Red Sox' ninth-inning rally came up a run short and the Toledo Mud Hens hung on for a 4-3 win on Sunday afternoon at McCoy Stadium. With the win, Toledo avoided being swept in the season series and snapped Pawtucket's four-game winning streak.
PawSox starter Henry Owens was strong for six innings; he allowed just one run on four hits, struck out seven and walked only one. The lone run charged to the lefthander came when Victor Martinez – in Pawtucket on a rehab – laced a single to left field in the third.
The Pawtucket offense staked Owens to an early lead. After singles from Quintin Berry and Deven Marrrero, Bryce Brentz bounced into a double play that put the PawSox ahead, 1-0.
The Sox (32-32) doubled their lead in the second inning; Sean Coyle and Mike Miller each walked with two outs before Berry ripped a base hit to left field.
Martinez's third-inning single cut the lead in half and would be the final damage done against Owens. After the southpaw was lifted, the Hens seized control of the game.
Miguel Celestino came in from the bullpen to start the seventh inning and allowed a single to Steven Moya. Celestino's throwing error moved Moya to second. He then walked Brendan Harris. Jeff McVaney then laid down a sacrifice bunt attempt; Celestino tried to retire the lead runner but could not. With the bases loaded and no outs, Miguel Gonzalez singled to tie the game.
Jonathan Aro was then summoned from the bullpen and induced a foul-out from Martinez. Xavier Avery then grounded out to first, which allowed Harris to score from third and gave Toledo a 3-2 win. McVaney scored Toledo's final run on a passed ball.
In the top of the ninth, Bryce Brentz ripped his eighth homer to left. But Alberto Cabrera then retired Allen Craig and Luke Montz to secure the win and earn his eighth save.
The PawSox will begin a three-game series in Charlotte on Tuesday night at 7:05 P.M. Radio coverage on 920 AM (WHJJ) and also streaming online begins at 6:50 pm.
Pawtucket returns home Monday, June 22nd for a seven-game homestand. Good seats are still available at the McCoy Stadium box office, by calling (401) 724-7300 or by visiting pawsox.com.