Victorino's infield hit lifts Boston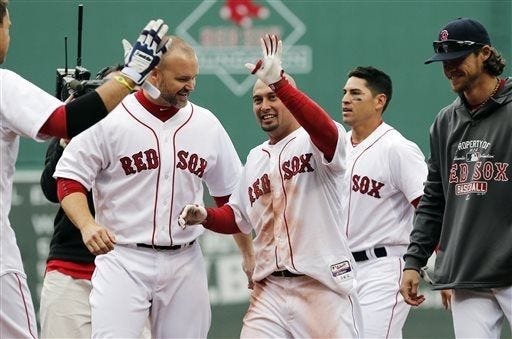 The Associated Press
Victorino's infield hit lifts Boston
BOSTON (AP) _ Shane Victorino had a well-placed RBI single into a five-man infield in the 10th inning Saturday, lifting the Boston Red Sox to a 2-1 win over the Tampa Bay Rays.
David Ross had a solo homer for Boston, which snapped a two-game losing streak.
Junichi Tazawa (2-0) pitched one inning for the win.
The Rays went 0 for 11 with runners in scoring position.
Jacoby Ellsbury singled with one out off Brandon Gomes (0-1), stole second and advanced on catcher Jose Lobaton's throwing error. Victorino then hit a hard grounder into a five-man infield that second baseman Ben Zobrist made a diving stop on to his right, but was unable to make a throw home.