Video showing man beating dog leads to arrest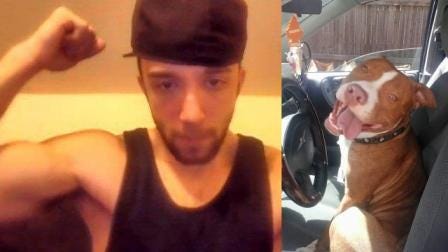 By Matt Blanchette
@mattblanchette
(Warning, the video shows a man striking a dog. It is disturbing.)
In hand cuffs and chains Peter Palmer faced a judge in Providence district court Wednesday after Providence police received a copy of this graphic video.
In it Palmer pulls his pit bull Ollie out of his cage and repeatedly punches him with his fists and then hits him with a wire.
But that's not all.
"The defendant can then be seen throwing the animal against a wall several times and whipping it with a wire," a detective read in court.
"Ihave never seen an act such as this with my own eyes other than through this video," Doctor E.J. Finocchio the President of the RISPCA said. He investigated Ollie's injuries when he was alerted to the video posted on YouTube and determined the to be severe enough that Providence police could make an arrest.
Palmer is being charged with felony cruelty to animals.
He told an SPCA investigator the video was just a joke.
Doctor Finnochio says he sees far too many cases of animal abuse that aren't captured on video and feels it's important for the public to see what goes on.
"It's our hope that more people will become more concerned and the proper actions are taken. The penalties are doled out to the individuals who prey on the weakest in our society."
A conviction could result in two years in prison and a one thousand dollar fine or both.
Ollie the pit bull is doing just fine now and has already been adopted into a new home.