Vigil held for 3-year-old who died after fall from Providence window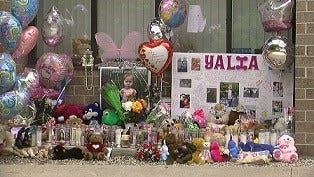 By: Samantha Lavien
Slavien@abc6.com
Twitter: @samanthalavien
Family and friends of the 3-year-old who fell out of a 6th story window in Providence last week, joined together on Monday to mourn her death.
A vigil was held at the Hillcrest Village Apartment Complex, the place where the accident happened.
"All I seen was my baby go down. And, I ran so fast to get her and I couldn't save my baby," said Iraida Torres, the mother of the little girl.
Torres describes the gut-wrenching moment when her daughter Yalia fell.
"I told her to get down off the window. I turned my back to the babies for one minute. She was back at the window when I tried to go to her it was too late. She just went down so fast," said Torres.
A memorial has continued to grow at the site of the fall. Yalia's parents say they're still not able to come to terms with what happened.
"She was a good girl, very sweet," said Angel Santos, Yalia's father.
Many stopped by the memorial on Monday to leave flowers, candles or other memento's. There was a private vigil held inside of the building.
"She'll never be forgotten. She's always going to be in my heart," said Crystal Pacheco, Yalia's aunt.
Santos and Torres wore shirts decorated with pictures of their daughter. They say they want people to remember the 3-year-old's extremely possible nature.
"Her smile, her smile. She was always happy and she always told everybody that she loved them," said Torres.
The fall is thought to be accidental at this time. It is under investigation by child protective services and police.
The family is asking for help to pay for Yalia's funeral. They have set up a go-fund me page to help cover the costs: http://www.gofundme.com/d4dsp0.
(c) WLNE-TV 2014