Vigil held for Somerset nursing student killed in crash with cruiser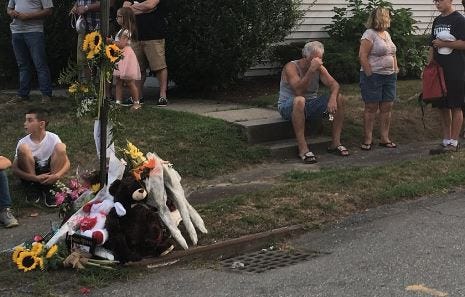 By John Krinjak
Email: jkrinjak@abc6.com
Twitter: @johnkrinjakABC6
SOMERSET, Mass. (WLNE) — Emotions are still raw at the corner of Route 138 and Westhill Avenue nearly 24 hours after a crash that killed UMass Dartmouth nursing student Hailey Allard.
"You just don't expect it when they're 20 years old," said Allard's friend Morgan Deplitch.
Friends, family, classmates, co-workers and total strangers lit candles and said prayers at a vigil for Allard Friday night.
"Everyone is devastated. It's so hard to believe," said Allard's best friend Sierra Torres.
"Dumbfounded. Surreal. It still hasn't hit me that this has happened," said neighbor and friend Bethaney Price.
Allard died just after midnight.. When her car collided head-on with a police cruiser responding to an emergency call.
"I had a bad feeling when she didn't hit me up saying she was home. So i came here and i saw the accident firsthand," said Allard's boyfriend Joseph Souza.
The officer gave her CPR, but she died at the hospital.
"She actually was coming from my house. We were hanging out all night, which makes me feel even worse. Part of me feels like it's on me," said Souza.
Tragically, she was almost home when this all happened.
"It shouldn't have happened. In one minute she would have been home. One minute," said longtime friend Madison Guarneri.
Close friends remember her warm spirit, and say Hailey was loved by everyone.
"She definitely left her mark. She was one of the greatest friends I had," said Deplitch.
"I'll never forget her. That smile could brighten up any room," said Souza.
"She was in the best place of her life, doing so great in school. She was just so happy," said Guarneri.
She was studying to be a pediatric nurse, but had already left an impact on these kids, who she babysat.
"She was really awesome, really funny," said Libby Price.
"Her heart. She had a really big heart," said Flynn Price.
And from Hailey's boyfriend, a message he hopes she'll receive–wherever she is.
"If I'm talking to Hailey right now, I love you. We all do," said Souza.
The cause of the crash remains under investigation.
© WLNE-TV / ABC6 2018