Patriots Player Vince Wilfork stops to help woman in rollover accident on way home from AFC game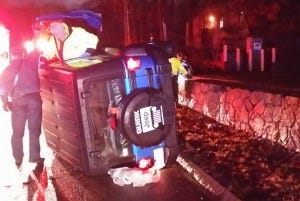 By Dee DeQuattro
Email: ddequattro@abc6.com
New England Patriots defensive tackle Vince Wilfork pulled a driver out of a vehicle involved in a rollover accident overnight after the AFC Championship Game.
Wilfork was on his way home from the game with his wife around 1:30 a.m. when they saw the accident near Motorcycles of Manchester in Foxboro. The two then stopped and Wilfork helped the driver, who was stuck inside the vehicle, out. Massachusetts State Police say that while a trooper held the drivers side door of the vehicle open Wilfork was able to reach into the vehicle and lift her out with one hand.
The driver, 38-year-old Mary Ellen Brooks from Hanson, did not suffer any serious injuries. Massachusetts State Police say the driver was later charged with OUI and negligent operation of a vehicle.
(C) WLNE-TV 2015