Vinny Paz movie to film at Kent, looking for extras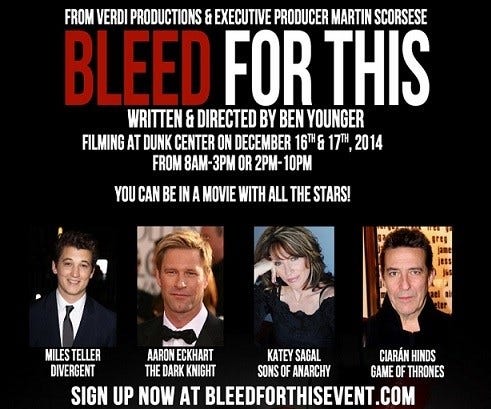 By News Staff
Producer Chad A. Verdi has announced that the filming for the Vinny Pazienza movie, Bleed for This, will head to Kent Hospital in Warwick on December 4th and 5th.
Kent will be the setting for a number of scenes, including a portrayal of Vinny's actual stay at the hospital back in the 1990s.
Jim Beardsworth, director of PR & Marketing at Kent said, "We are excited to be participating in this Rhode Island production and to help provide filming locations needed to portray some of the actual care provided to Mr. Pazienza at the time of his accident. Our work with the community is important on so many levels and this is certainly a unique opportunity to be a part of."
6000 extras are also being sought for upcoming fight scenes in the production. 1,500 people are needed to fill the Event Center in the Dunkin Donuts center on December 16th and 17th. You can sign up at bleedforthisevent.com.
© WLNE-TV 2014