VIRAL PICTURE: MA trooper shares lunch with Fall River panhandler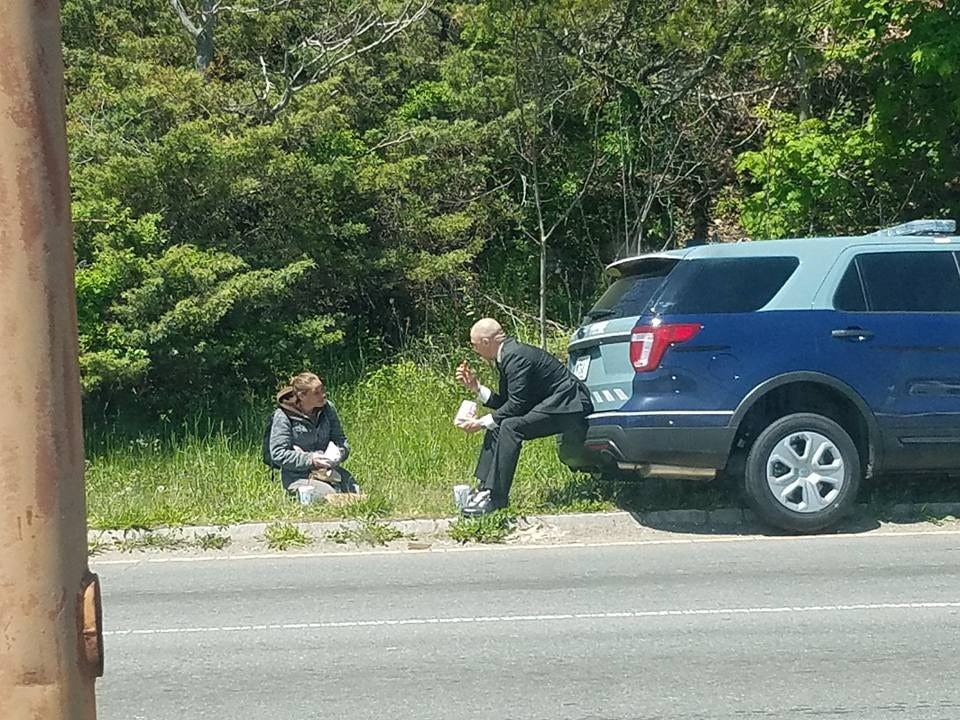 A picture showing a Massachusetts State Trooper and a homeless woman in Fall River sharing a meal has gone viral.
The woman featured in the photo, Lynn Murphy, tells ABC 6 News she still can't believe all the attention the photo has gotten.
"I don't have family. I don't have nobody. It was great that he noticed me," said Murphy.
Murphy was carrying a sign reading in part, "homeless, hungry anything helps" when off-duty trooper Luke Bonin noticed her last week. State Police Bonin was leaving court when he drove by and spotted Murphy who appeared to be "down on her luck."
"I thought he was going to tell me to leave, but he didn't tell me to leave. He came and said no that's fine. He said coke or sprite? And, I'm like coke. And then he was like chicken or fries or onion rings and I was like oh. And, he was like it's a nice day we're going to have a picnic," said Murphy.
The kind gesture was caught on camera by Jake Morse who posted the photo to Facebook with the comment… "And they say chivalry is dead." It quickly went viral.
"Cops get bashed a lot and it just showed that he took his own time to sit there and eat with her. He was off duty. So I thought that was just a good gesture," said Morse.
Murphy says she spoke with trooper Bonin about her life and his, saying he also offered up some suggestions for help.
"I'm flabbergasted that he bought me lunch," said Murphy. "I thought he was just going to hand it to me. But, he actually sat down with me, which meant the world to me."
Murphy now hoping the viral image will teach others an important lesson.
"Stop, ask me my story," said Murphy. "Don't just judge me and say she's on the corner looking to get her next fix or looking to go get a bottle of beer. No, it's not. That's not what it is at all."
Murphy says she's been homeless for 5 months and is looking for work. She says the kind gesture gave her a renewed sense of hope as she continues to move forward.
As for trooper Bonin, he didn't want to talk on camera saying he wasn't seeking or expecting publicity for any of this.
(C) WLNE 2016