Wanted man and his brother cannot outrun Mass State Police's eye in the sky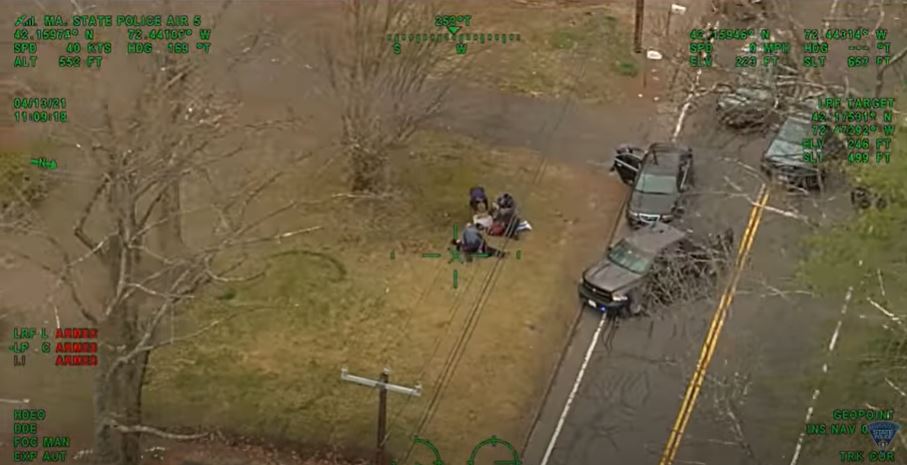 STURBRIDGE, MASS (WLNE) – After a failed attempt at shaking the aircrew, the occupants of the vehicle decided it would be best to surrender to Massachusetts State Police.
Shortly before noon on Tuesday, A black Acura was on the road driving without a front license plate, where a Trooper then proceeded to catch up to the vehicle.
Police say as they approached Exit 3, the Acura made erratic lane changes, cutting off other motorists and exited on Route 84.
The trooper followed the vehicle and observed it make an illegal U-turn to re-enter the eastbound lane of Route 84, which is when emergency lights were activated in an attempt to stop the vehicle.
The Acura refused to stop, at which point the trooper notified all area cruisers he was in pursuit of the vehicle.
Two people were identified in the front seats, and police say they switched places.
A termination was ordered with a follow-up investigation in an attempt to identify the occupants.
The State Police Air Wing notified the department they had a visual.
While Air 5 was observing the vehicle from a distance, the operator continued to disobey traffic laws with now police in pursuit.
Eventually, the Acura stopped and all parties exited and surrendered to the Air Wing.
Multiple crews arrived on the scene and two of the three occupants in the vehicle were taken into custody.
25-year-old Oscar Santiago of Hartford, CT, and 25-year-old Omar Santiago of New Britain, CT, are facing over a dozen charges each.
The video taken from Air 5 can be viewed here.
©WLNE-TV/ABC6 2021