Warming up into President's Day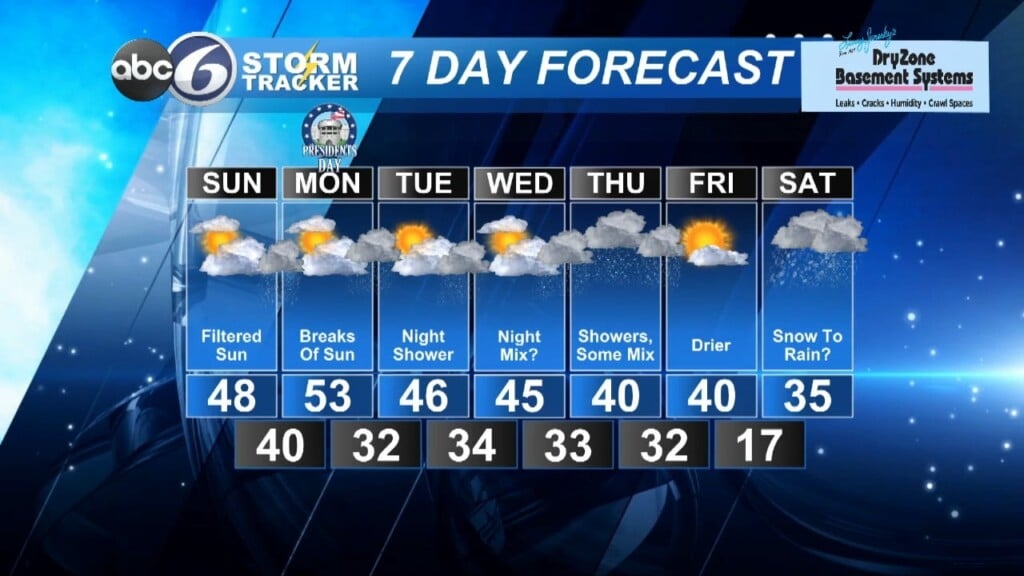 From ABC6 Meteorologist Bill Gile,
bgile@abc6.com
There is another warming trend in store for early this week, but as we move into the second half of the week it will begin turning colder and the weather pattern will become rather active with several small systems moving through. In fact, it looks like about ever 12-24 hours will feature another weather system moving through the Northeast region, but nothing that will result in a washout and most of them will come through at night.
High pressure will move south of New England today to start the warm up, but filtered sunshine will be increasingly dimmed out by thickening high clouds this afternoon.
Most of President's day Monday will be dry until the late afternoon or evening. A weak wave of Low pressure quickly slides across the region bringing a couple of light rain showers. Most of Tuesday stays dry until the overnight when another weak disturbance crosses the region with more rain showers.
Colder air will begin working toward the region late Wednesday and that means rain showers could be mixing with some wet snow that lingers into Thursday. As next weekend approaches a more organized storm system may be developing that could bring some snow. However, the latest long range model guidance has begun to back off on that outlook at the moment. Nonetheless, there is still a lot that can change between now and then. So tune to ABC6 News at 6:30PM & 11PM tonight for my latest forecast.
THIS AFTERNOON: filtered sunshine fading as the clouds thicken. Highs 46-50.
TONIGHT: cloudy. Lows 38-42.
MONDAY: a morning shower around then breaking clouds late in the day. Staying mild with Highs low 50s.
TUESDAY: early sun mixing with PM clouds and a threat of rain shower developing overnight. Highs in the mid 40s.
WEDNESDAY: partial sunshine and another threat of showers overnight. Highs in the mid 40s.