Warning in RI after black bear sightings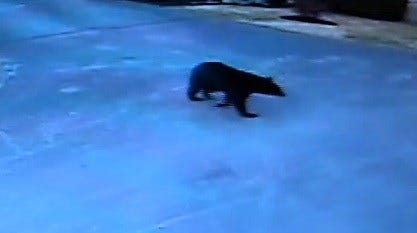 By News Staff
A warning was issued Wednesday night after an increase in black bear sightings in Rhode Island.
The warning comes after a Cumberland man spotted a bear in his neighbor's yard over the weekend.
It happened on Diamond Hill Road where the bear was caught on surveillance video walking up the resident's driveway.
Mike Picard, who caught the bear on camera, says that after the animal was noticed, his neighbor alerted everyone living near him.
"I couldn't believe it, I really couldn't believe it. I said wow—that's a good sized bear. That's not just a little bear… that's a zoo size bear," said Picard.
Two weeks ago a black bear was spotted strolling across a backyard in Wrentham.
© WLNE-TV 2015