Warren church puts final touches on parade float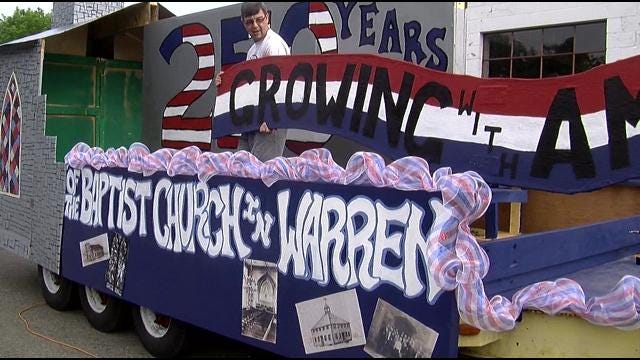 By: Melissa Randall
mrandall@abc6.com
One of the crowd favorites during the Bristol 4th of July celebration is, of course, the floats! Over the last few days participants have been busy putting the final touches on their entries.
The Baptist Church in Warren is taking their message to the street, at least for Independence Day. They've been busy building a float to ride on in the 229th Fourth of July Celebration in Bristol.
"We are excited. We'll have fourteen people riding on the float– couldn't fit everybody in," said Rev. Esther Irish.
The float is a replica of the church, right down to the stained glass windows. In keeping with the theme it has patriotic elements, too. After getting their concept approved volunteers were put on a tight timeline to get the float ready.
"We had about 3 weeks or 4 weeks to actually create the design which means all the painting, all the cutting of the wood," said Wanda Gilbert, one of the volunteers.
Even though Bristol and Warren are next door neighbors this will be the first time that the church is entering a float in the celebration.
"Why now? Well, it's our 250th anniversary and we feel that it represents kind of growing with America and being a part of the whole tradition all the way back just like the parade," said Gilbert.
Rev. Esther Irish says the Baptist Church has a rich history dating back to 1764 when Rhode Island College, now Brown University, was founded on the site. They even have ties to Paul Revere and Benjamin Franklin.
To honor their past, those riding down Hope Street will dress in period clothing.
The Baptist Church in Warren is competing in the second division, the militia division. They know the competition is steep, considering there are 20 floats in this year's parade, but are excited just to be a part of the celebration.
© WLNE-TV 2014
Follow me on Twitter @MelissaARandall