Warwick begins issuing $100 fines for un shoveled sidewalks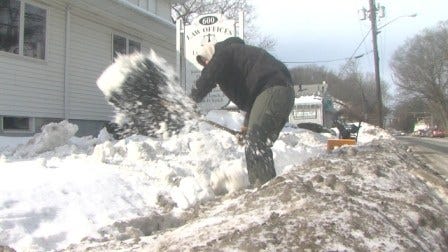 By Matt Blanchette
@mattblanchette
Zach Furtado of Zach Furtado landscaping is getting so many calls to clear sidewalks he can hardly keep up with them all.
"I have a handful of businesses that need their walkways clear especially around here for the school and the doctors office. So everybody can walk on the sidewalk and not on the street. Yea there has been a lot," he said.
The snow has turned to ice making it even more difficult to remove and plows need someplace to put the fresh snow on the way.
So the city of Warwick wants the old stuff gone.
Anyone who doesn't remove it is subject to a $100 fine because of a city ordinance.
"The violations, they are steep, $100 for the first offense, but the intent is voluntary compliance," Maj. Raymond Gallucci of Warwick police said.
Police respond to complaints that are either called or emailed in to them. In almost every case before they issue a fine, they first issue one of these. It's a warning that says "shoveling your walkways, it's the neighborly thing to do, it's also the law."
"Me personally, I have never written one," officer Scott Chanthaphouvong said. "I have issued a good 15–20 warnings those placards, the door hangers, pretty much once you go there and give them that they will take care of it."
Café t=Tempo sits on a busy intersection at Centerville and Toll Gate Roads. They were issued a warning and have since complied.
"Look all I can tell you is I was served a notice to do so and I did," owner Tom Buontempo said.
ABC 6 rode along with police for an hour today and in that time, no complaint no tickets, and in the end that is what everyone in the city wants.
"It is a problem for all of us and I guess we just have to get engaged and do the best that we can to keep the area clean," Buontempo said.