Warwick Mother sacrifices life for unborn child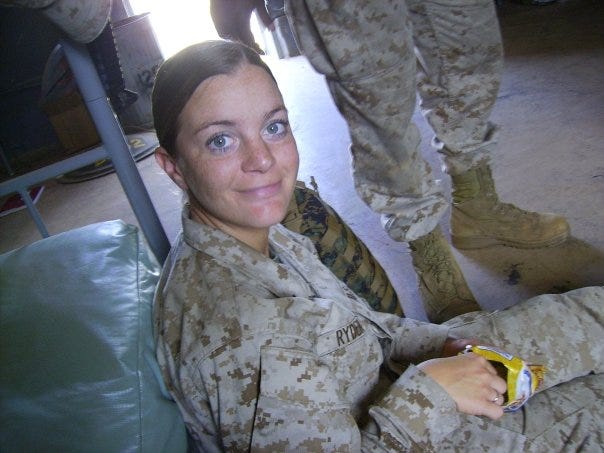 By Melissa Randall
twitter @melissaArandall
A Warwick mother's selfless decision to forgo potentially life saving cancer treatment in order to give her unborn child a chance at life.
Andrea Ryder served two tours over seas with the Marines, but the 27–year–old's biggest battle wouldn't be on the front lines.
This past June, just a few months into her first pregnancy, the Warwick woman was told she had cancer, and should consider terminating the baby in order to get treatment.
But Ryder says that was not even an option.
She'd survived skin cancer before, but this time the melanoma had spread to her intestines, lungs, liver, breast and shoulder.
Even knowing that forgoing treatment meant she only had 3 to 6 months to live. Ryder knew in her heart she was meant to be a mother and her husband optimistically supported the decision.
"It was not like it was the beginning of the pregnancy," Ryder said. "I was already in the second trimester and we were only a week away from finding out the gender, so I couldn't even think of termination."
It was a little girl and by fall doctors decided to enduce her. On September 29th Olivia Marie entered the world.
She was 10 weeks premature, but healthy.
"She was a big girl. She was born 3, 3 and was 16 inches long and they couldn't believe how big she was," Ryder said.
As Ryder undergoes the treatment she had put off for months she draws strength from her little girl.She visits Olivia in the hospital where the baby continues to grow bigger.
"As soon as I'm done with radiation I walk right over to go see the baby and am there all day," she says. No matter the outcome Ryder stands by her decision. A mother's love unwavering.
"I just I just feel that a lot of people would maybe do this for their baby," Ryder said.
And at home Olivia's closet is stocked with clothes; her room nearly ready for her arrival. Doctors say that could happen before the holidays.