Warwick Officers say K-9 Unit is making a big difference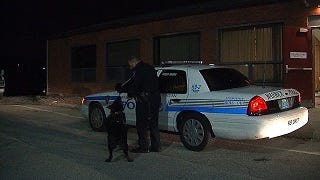 By: Samantha Lavien
Twitter: @samanthalavien
The Warwick Police Department was without a K-9 Unit for three years, the unit was restored in 2012 and members of the department say its making a big difference.
In 2013 the two dogs named Fox and Viking were involved in 33 searches. Over the year almost 1,000 grams of marijuana was seized along with 60 kilos of cocaine and 36 grams of meth. In addition, more than $120,000 in cash was seized. The officers say it's work that couldn't be done without the dogs.
"The harder drugs such as heroin which is a big source of overdoses in the city right now cocaine, meth we can't smell those that's where we bring in the dogs and they're able to detect those drugs," said Police Officer Aaron Steere with the Warwick Police Department.
Tuesday night was a great example of the work that the two K-9 officers do. The Warwick unit was called to assist the West Warwick Police Department in the search for a man who fled after a car chase.
"Both of our dogs have come very far and we've got some good grabs," said Police Officer Paul Wells of the Warwick Police Department.
The two officers currently working on the K9 Unit say they pushed to help bring the unit back.
In the future the hope is that the unit will be able to expand.
©WLNE-TV / ABC6