Warwick restaurant bill with insulting label goes viral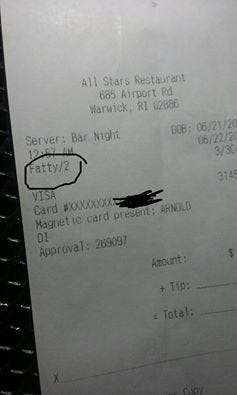 By Liz Tufts
ltufts@abc6.com
A check from the All-Star Bar and Grill on Airport Road in Warwick is going viral – it's been shared hundreds of times on Facebook.
As you take a closer look in the upper left hand corner, it says "fatty- party of two".
The customer who is a regular at the restaurant couldn't believe his eyes on Tuesday night when he read the insult. He immediately took to social media to air his frustrations.
He didn't want to talk to us on camera, but the owner of the restaurant, Antonio Ambrosio, did.
"It was brought to my attention that one of my employee's labeled the check with the word fatty."
And now … he is apologizing.
The employee was talked to and immediately terminated. That employee turns out to be his own 18-year-old son Tony.
"He's 18 years old and had an immature moment."
Ambrosio immediately fired his son and made him speak with us and apologize to the customer.
"I made a mistake and I'm immature there's nothing more I can say it was wrong people have names and not labels."
Ambrosio says his employees write names on the checks to have a more personal relationship with their customers.
"Like hey Liz would you like another round, so we label our checks."
And he'll continue having his employees write names on these checks and hopes what happened this week will serve as a reminder to everyone.
"To think that my son would even put that on a check, i have never raised him like that my son is just as accountable as anybody else and he will face the consequences like anybody else."
© WLNE-TV 2016