Warwick Vets High School will stay open for now, vote tabled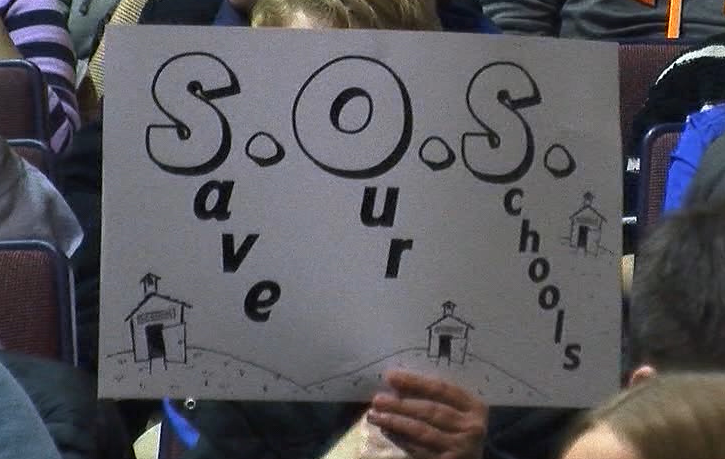 By: Alexandra Cowley
acowley@abc6.com
A packed auditorium of parents, students, and teachers of the Vets High School community was brought to its feet Tuesday night. The school committee was expected to vote on the closure of Vets high school to convert it to a junior high. But the vote was tabled.
School committee member Karen Bachus asked the committee to agree to hire an outside firm to find the best scenario for consolidation. The motion passed.
"I don't believe in my heart of hearts that we can go forward because we have one chance," said Bachus.
The auditorium erupted in cheers. Ken Genereux is a special education teacher at Vets High School. He's been fighting to keep the school open since the plan to close it was made public.
"It was phenomenal to know that we can walk back in our building tomorrow and we don't have to deal with anything but happiness no more anxiety we are good to go," said Genereux.
The school department was looking to close Vets along with Gorton and Aldrich middle schools. The Vets building would become a consolidated middle school and the vets students would be dispersed across the city's other two high schools.
Under that plan, the district would save 4.5 million dollars a year. Now, they'll have to pay to keep the half empty schools open.
Warwick School Committee Chair Bethany Furtado was ready to make a vote on Tuesday night.
"It doesn't take a rocket scientist to understand that when you have half the population and the same amount of buildings something has to give," said Furtado.
Furtado says they will immediately begin looking for outside firms and hope to have a second opinion by this Spring.
"They're clamoring for an outside entity, so we'll go to an outside agency and well have them come up with the information. It may be exactly the same thing it may be exactly what we came up with," Furtado said.
Whatever the decision made by this outside firm, parents say they'll be okay with it, because a professional studied the best option for consolidation.
Parent Kathy Martin says, "I think as long as we make a professional decision that encourages us to have the best school system we can have, that should be the only goal period."
This means the proposal made by the special committee is basically thrown out the window. As for the outside firm, chair woman Furtado says it could cost the district anywhere from 75,000 to 150,000 dollars. They hope to have a plan by Summer which would go into effect for the 2015-2016 school year.
©WLNE-TV / ABC6