Warwick woman wants answers after the wrong body shows up to mother's funeral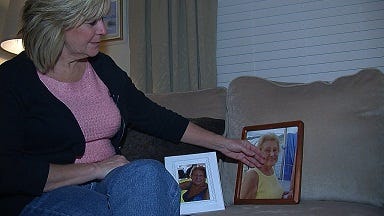 By: Alexandra Cowley
A heartbreaking mix–up. A family about to say their final goodbye's to their mother, when they realize the wrong body is in the casket. They find out later, their mother was cremated in Canada.
The family's annual Thanksgiving trip to St. Maarten turned tragic, when their mother unexpectedly passed. They made arrangements there on the island to have her body prepared and sent back to her hometown of New Jersey. But the body never made it, and since then, Lisa Kondvar has been living a nightmare.
"Oh my god that's not her, that's not my mom, and it was just so horrifying," said Lisa Kondvar as she recalls the 2nd worst day of her life. The 1st was losing her mother, 82-year-old Margaret porkka.
Kondvar had left St. Maartin the morning of Thanksgiving. She gave everyone a hug and a kiss goodbye. The next morning she got the call that her mom, who she'd just seen dancing hours earlier, had passed.
"The day before she passed she was full of life and dancing, and laughing, and hugging," said Kondvar.
Kondvar's brother and sister handled the transportation arrangements with a funeral home on the island, and coordinated with the hospital. The hospital would end up being the last place the family would see her.
"My sister took her rings off, and her watch, said their goodbyes, said a prayer, and that was the last time they saw her," she said.
When working with the funeral home in St. Maarten, Kondvar says they didn't allow her siblings to see their mother again.
"They were refused to go in and give mom a last kiss goodbye."
After they flew back, the funeral home demanded they wire them 7,000 dollars or their mothers body woulnd't be transported back to the states. So they did, and days later they made the heartbreaking discovery at their mother's funeral in New Jersey. It wasn't their mom in the casket.
"We had picked a beautiful outfit that my mom wore for my nieces wedding, and this person was wearing it."
To be sure, they made comparisons there looking for distinct marks.
"The body did not have an odd looking toe and there wasn't even a paper cut on her left leg," explained Kondvar.
After many phone calls across borders, they determined their mother was sent to Canada and cremated by a family there who had lost a loved one just hours after Porkka died.
Somewhere between the hospital and the funeral home in St Maarten, a mix–up was made, and Kondvar is desperate for answers.
"I'm starting to get to an angry stage and I want to get to the bottom of why they did what they did," she cried.
The family sent their mother's toothbrush and hair brush to Canada to see if they can get a DNA match for their mother from the ashes. If it's a match, they hope to spread some of them on the island of St. Maarten.
In the meantime, they're looking to hire an international attorney, to make sure this doesn't happen to anyone else.
(C) WLNE-TV 2014